CSG Snapshot: Do it Best Corp.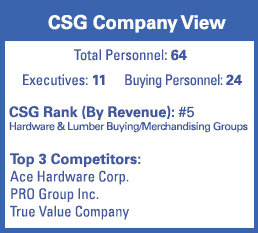 6502 Nelson Rd
Fort Wayne IN 46803
(260) 748-5300
www.doitbest.com
www.doitbestcorp.com
Accounts Served
3,700
Total Sales
$3.020 billion
Year Founded
1945
Trading Areas
AK, AL, AR, AZ, CA, CO, CT, DC, DE, FL, GA, GU, HI, IA, ID, IL, IN, KS, KY, LA, MA, MD, ME, MI, MN, MO, MS, MT, NC, ND, NE, NH, NJ, NM, NV, NY, OH, OK, OR, PA, PR, RI, SC, SD, TN, TX, UT, VA, VI, VT, WA, WI, WV, WY
Senior Executives
President + CEO: Dan Starr
VP Sales & Business Development: Jay Brown
VP Finance: Doug Roth
SNAP

FORWARD
Do it Best Corp announced its fiscal 2016 results (FYE 6.25.16) over the weekend at its annual Fall Market for retailers. The company passed $3 billion in sales ($3.020 billion) for the year, but only managed a modest 0.7% increase over the previous year's results. That said, with a 5.4% year-over-year increase already in the books for the first quarter of fiscal 2017, the momentum has picked back up as the company focuses on growing its member base and same-store sales for the year to come.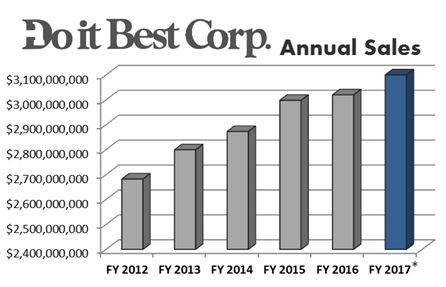 Source: Chain Store Guide Database of Home Center Operators & Hardware Chains.*CSG projection based on proprietary analysis and company statements. Actual figures are subject to change. This data is not intended for investment decisions.