Sears Holdings: Closings Continue
Another terrible quarterly earnings report from Sears at the end of August (for Q2 ended 7.30.16) was followed by last week's announcement of additional store closings for the beleaguered retailer. While Sears Holdings has the ability to stay afloat financially for the near term, it has become increasing impossible to imagine a turnaround scenario that includes the company emerging from its struggles with anything that resembles its current structure and portfolio of stores.
This time around, it's 64 Kmart locations slated to close by mid-December. Those stores are in addition to the mass closings announced in April (68 Kmarts and 10 Sears stores) and the regular trickle of single-store closings that only get a mention from local news sources but continue to quietly erode the company's store count.
Last week's announcement sent the editorial team back to the CSG Department Stores & Shoe Retailers Database, company reports and press releases to map out an accurate representation of the footprint of Sears Holdings Corporation in 2016, which you can see below.
As the Kmart chart shows, the 68 Kmart closings the company announced in April and at the time projected to wrap up by the end of July had not been considered officially closed and accounted for as such by the company in its Q2 (July 30) earnings release. CSG believes those stores to now be closed, meaning that as of today Kmart has 828 (or fewer) open locations, which should be reflected in the company's Q3 release. Assuming the 64 stores announced last week actually close in December [or some time before the end of the fiscal year (1.31.17)], Sears Holdings will end the year with at the most 764 open Kmart stores — a 19% decline for the year.
If the company makes it through the holiday season and the month of January without another significant negative event or announcement (and at this point, that's assuming a lot), CSG estimates it will finish its year with slightly fewer than 700 open Sears locations.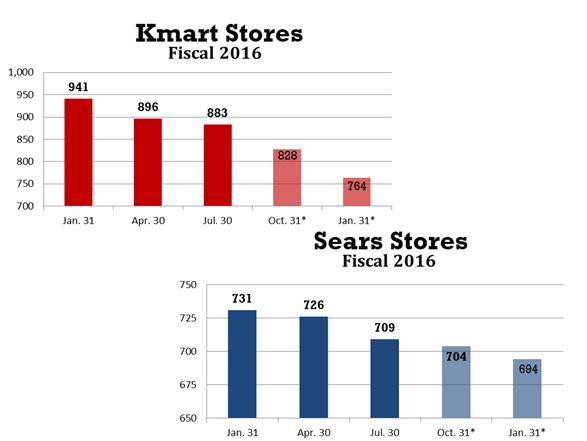 Source: Chain Store Guide Database of Department Stores & Shoe Retailers. *CSG Projection. Estimates based on proprietary trend analysis and company comments. Actual figures are subject to change. This data is not intended for investment decisions.