As Walgreens attempts to unload what now appears to be 650 stores to satisfy regulators in its bid to acquire Rite Aid, Rite Aid continues to maintain its holding pattern. The company returned a mixed bag of results last week with second-quarter revenue up 4.8% (to $8.0 billion) and net income down 33% year-over-year to $14.8 million for the quarter. Walgreens Boots has its next earnings release scheduled for October 20, when we'll have a chance to see whether it finished its Fiscal 2016 (ended 9-31-16) with a flourish.
It's become commonplace recently for Walgreens Boots, CVS and Rite to report quarterly revenue increases in the 10% to 20% range – business is fairly good. With that in mind, we thought we'd take a closer look at the back of the house where the rubber meets the road and throw same-store pharmacy sales for the Big Three onto a chart, which you can see below.
The Rite-Aid-holding-pattern narrative is borne out, and one has to wonder whether we'll find that the pace of Walgreen's pharmacy sales growth slowed in recent months, mimicking the trend seen from CVS and Rite Aid. Same store pharmacy sales at CVS have been markedly consistent over the past year, and it will be interesting to see how the numbers are affected when the Target stores, purchased in December 2015, work their way into same-store sales.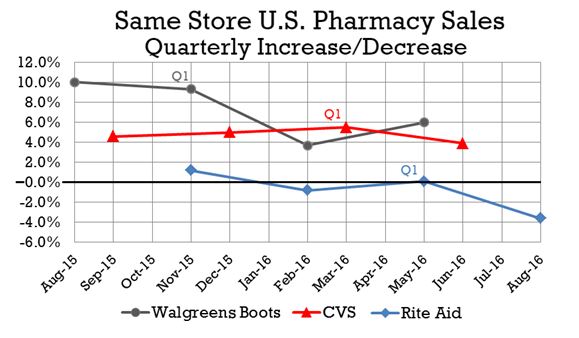 Source: Chain Store Guide Database of Drug Store & HBC Chains and company reports.