"Lackluster" Summer for Lowe's
The summer started off with a bang for the home improvement giant when Lowe's sealed the Rona, Inc. deal in early Q2 that brought it 500+ new stores and made the company the second largest home center chain in Canada.
That was news. And a big deal. But with August's round of second-quarter earnings releases, it was all about rival Home Depot, which absolutely knocked it out of the park with a record-setting quarter (that we detailed here). Lowe's performance on the other hand was solid, if unspectacular (especially when compared to Home Depot), though not meeting Wall Street's expectations.
Lowe's net sales rose 5.2% for the quarter (compared to 2015) to $18.3 billion – a serious chunk of change – and for the first half of the year, total sales were up 6.4%. Again, really good, but then there's Home Depot, sitting on a 7.7% increase for the first six months.
The hand-wringing about its performance and the "Home Depot Crushed Lowe's" headlines had roots in investor-centric concerns with Lowe's lowering its earnings per share guidance by a few pennies.
There's a real world issue, though, that is cause for concern – same store US hardware sales. Coming off a first quarter that saw its same store sales rise by 7.5% (bettering the Home Depot mark of 7.4%), Lowe's percent increase in same stores sales for Q2 fell off to 1.9%, as seen in the graphic below. Analysts have attributed the performance gap between the two companies to the Home Depot's larger professional customer base (2-to-3 times larger by Chain Store Guide estimates) whose need to spend continued to be driven by favorable housing and economic conditions, especially in the West where Home Depot has a stronger presence.
Lowe's executives haven't let coming up short versus investors' expectations and an inability to maintain same-store sales momentum in the second quarter dampen enthusiasm for what they expect to be a solid year. We'll see whether or not the Q2 naysayers were onto something when we get another round of results in six weeks or so.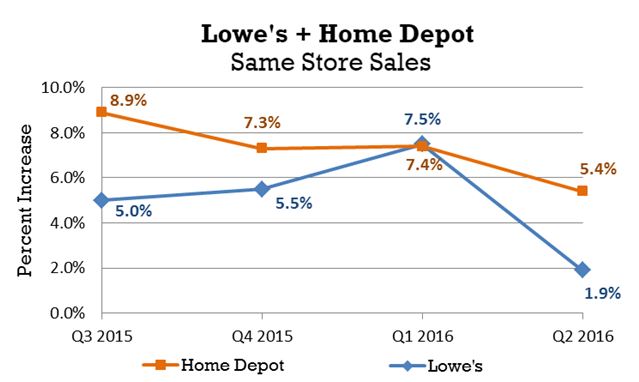 Sources: Chain Store Guide Database of Home Center Operators & Hardware Chains and company reports.