CSG Snapshot: Tuesday Morning Corp.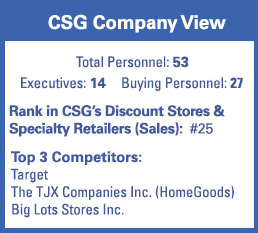 6250 Lyndon B Johnson Freeway
Dallas TX 75240
(972) 387-3562
tuesdaymorning.com
Total Stores
745
Total Sales
$956.4 million
Year Founded
1974
Trading Areas
AL, AR, AZ, CA, CO, DC, DE, FL, GA, IA, ID, IL, IN, KS, KY, LA, MA, MD, MI, MN, MO, MS, NC, ND, NE, NJ, NM, NV, NY, OH, OK, OR, PA, SC, SD, TN, TX, UT, VA, WA, WI
Senior Executives
CEO: Steven Becker
President + COO: Melissa Phillips
CFO: Stacie Shirley
SNAP

FORWARD
In the midst of a turnaround that kicked off in 2012, Tuesday Morning is doing a lot of things well. CEO Steven Becker can point to four consecutive years of overall sales growth, same-store sales growth and increases in net sales per square foot (and the team at Chain Store Guide believes that these trends will continue in the short term). It's a turnaround strategy heavily predicated upon real estate. As the graphic shows, Tuesday Morning has tightened its net store count by about 100 units (13%) in four years, but store closings are only part of the story. In Fiscal 2016, the retailer closed 16 stores, relocated 46, expanded 7 and opened 16. The plans for Fiscal 2017 call for 30-35 closings, 20-25 new stores, 15-20 expansions, and 50-55 relocations. That kind of activity has produced positive results, but it comes at a price. The expense side of the equation drove profits down to $3.7 million in Fiscal 2016 (FYE 6.30.16) from $10.4 million the previous year (which followed net losses in FY 2014 and 2015). Four years in and although many signs point positive, it's a mixed bag. One thing is certain: Tuesday Morning won't come out the other end until the real-estate map is reset in stone and the associated expenses end.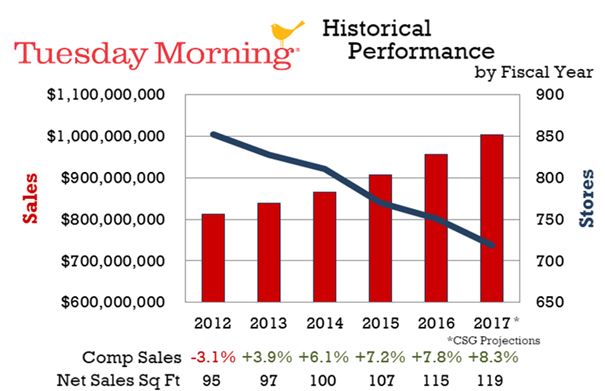 Source: Chain Store Guide Database of Discount, Dollar & Specialty Stores. *CSG projections based on proprietary analysis and company statements. Actual figures are subject to change. This data is not intended for investment decisions.