Wal-Mart completed the largest acquisition of an ecommerce company in the history of such things when it shelled out more than $3 billion in August to acquire new kid on the block Jet.com, which just celebrated its one-year anniversary in July.
Discussions between the two companies reportedly began with Wal-Mart looking to make a strategic investment in the startup, but Wal-Mart executives must have liked what they saw both in terms of Jet.com and CEO and co-founder Marc Lore. Plans are for Lore to continue running Jet as a stand-alone entity while taking over the lead for all of Wal-Mart's ecommerce operations. Lore launched Jet.com with co-founders Nathan Faust and Mike Hanrahan after selling a previous venture, Quidsi (Diapers.com, Soap.com), to Amazon in 2010 for a mere $500+ million.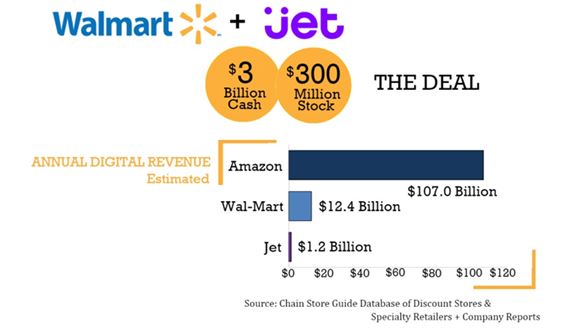 In Jet, Wal-Mart gets a company that generated an estimated $1.2 billion in first-year online sales (compared to $12.4 billion globally for Wal-Mart and $107.0 billion for Amazon). As importantly, it gets access to what's under the hood – Jet's real-time pricing algorithm that identifies the seller or sellers that can realize the best combination of efficiencies in terms of pricing and shipping to fill an order sitting in a checkout cart.
This is the key point of differentiation between Jet and other general-merchandise sites like Amazon (and Walmart.com), both in terms of an underlying core competency and the user shopping experience. Shoppers see savings – they see that adding a tube of a certain brand of toothpaste to their cart lowers the unit cost of the toilet paper and dog food already sitting in the cart. What they don't see is the laundry list of sourcing, bundling and shipping calculations that Jet.com made to arrive at those new prices. It's this technology that Wal-Mart will seek to leverage in growing its digital business, a segment that has been growing less quickly in recent quarters.