Last week's release of Target's second quarter earnings report and the subsequent conference call shined a light on the company's ongoing dilemma in the grocery segment, and it's not clear that Target will have the answers in the near term.
First, the headlines. Overall comp sales at Target were down 1.1% for the quarter and flat for the first six months of FY2016, which is obviously not great. Of particular concern for Target and interest for the grocery-minded observer was the 2.2% drop in foot traffic – a metric that a successful grocery business bolsters. In his comments, CEO Brian Cornell clearly spoke to this issue – "In the second quarter, our number one challenge was traffic."
Reflecting overall comp sales and adding to the deficit, grocery comps were down in the second quarter, following a first quarter in which executives described grocery sales as "slightly down" within an overall 1.2% comp sales increase for the quarter. Blame for the first quarter sales dip was assigned to disruption caused by a large-scale grocery reset in April that brought 1,000 new items and 55 new brands to Target shelves, many with the requisite better-for-you credentials retailers feel compelled to tout in such instances. It was, though, this reset that was expected (and failed) to bolster sales in the second quarter.
For Target, though, the challenge goes beyond the results of a quarter or two. In the past executives have admitted that consumers don't view Target as a destination for groceries. The dilemma lies in the fundamental question of how to execute the company's "Expect More, Pay Less" vision within the grocery segment.
On the "expect more" side of the equation, Target has yet to demonstrate it can or wants to compete against specialty grocers in terms of product offerings and quality. In terms of "pay less," it simply can't compete with Walmart. In the grocery segment, the elements of Target's two-part vision seem to be irreconcilable opposites. The company is stuck squarely in the middle between the two ideas, which in terms of consumer appeal translates as "nowhere," not a good place to be for the company's second-largest segment by sales (behind household essentials).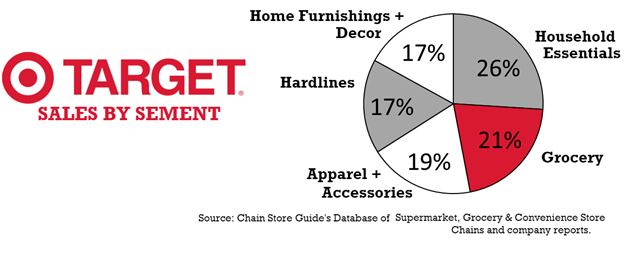 The grocery segment accounts for 21% of Target Corp. sales on an annual basis. Apparel and accessories account for 19%. Yet much of the time, Target's marketing efforts seem to take the former as an unexciting given only to spend time on the fashionable and fun latter. To change consumer perception, Target will not only need to figure out how to get the "Expect More, Pay Less" mix right in the grocery aisles but also how to become a go-to destination for chicken leg quarters and Mossimo – at the same time.