Record Sales for The Home Depot
Last December, The Home Depot established an ambitious revenue target of $101 billion for fiscal 2018. That goal required annual sales to grow at a rather healthy compound annual growth rate of 4.7% based upon what were at the time projected (and later actual) annual sales for 2015 of $88 million. If the first two quarters of 2016 are an accurate gauge of future performance, the company is likely already thinking about adjusting that goal upwards.
The Home Depot this month reported sales of $26.2 million for the second quarter, the highest sales figure for a single quarter in the company's history. Those $26.2 million in sales were a 6.6% increase compared to Q2 2015 and put The Home Depot at $49.2 million in sales for the first half of the year –  +7.7% versus the first six months of 2015. In its second quarter earnings statement, The Home Depot held firm on its previous estimate of a 6.3% increase in sales for the year, the scenario charted below. Even with that "conservative" estimate, given 2016 sales to date, The Home Depot would be within striking distance of $101 as early as next year if its current run can continue.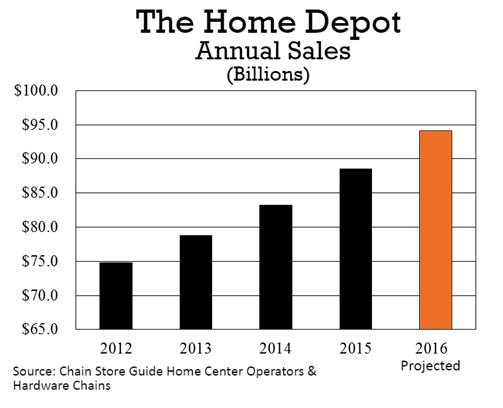 Estimated growth is based on proprietary trend analysis. Actual figures are subject to change. This data is not intended for investment decisions.
Store growth is a thing of the past for the company, which currently has 2,275 stores in the US, Canada and Mexico (an increase of one store to date for 2016). The second quarter's record sales were driven by jumps in same-store sales (+4.7% overall; +5.4 in the US), store traffic (comparable transactions +2.2%), and digital sales all of which can be attributed to a number of external factors including strong housing starts, weather conducive to construction and DIY, and high levels of consumer spending for large parts of the year.
Digital and omni-channel development has been a point of emphasis for the company, and it's paying off. Online sales grew by 19% in Q2 and now account for 5.6% of total sales. CSG estimates that the 2016 growth in online sales accounted for close to $500 million of the total sales gains ($3.5 million) The Home Depot realized in the first half of the year.