As first we noted in the August 2016 Drug Stores & HBC Chains DataTrac report, The Kroger Co. made a significant acquisition this month in the form of specialty pharmacy ModernHeatlh via its wholly-owned subsidiary Axium Pharmacy Holdings.  With the acquisition, Kroger merged the two companies to create a single Lake Mary, FL-based specialty-pharmacy business under the leadership of Dom Meffe, the current CEO of ModernHealth. The new business will continue to operate as an independent entity.
The fifth largest prescription-drug provider in the US according to Chain Store Guide data (trailing Walgreens, CVS, Rite Aid and Wal-Mart), in 2015 Kroger filled more than 180 million prescriptions, generating approximately $9.8 billion in sales.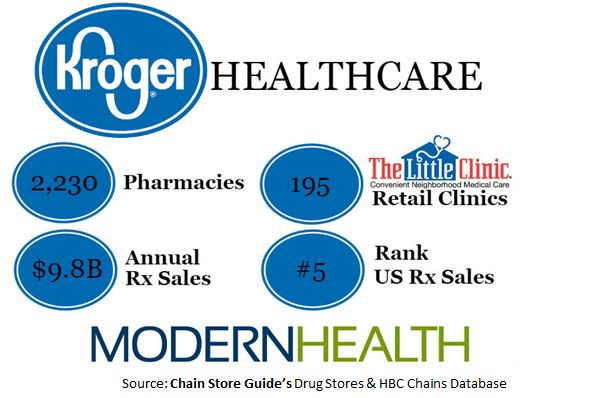 The acquisition provides Kroger with a greater base from which to realize economies of scale and grow its specialty-pharmacy business, particularly in the south and southwest.