CSG Snapshot: Urban Outfitters Inc.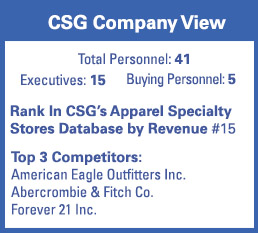 5000 S Broad St
Philadelphia PA 19112
(215) 454-5500
urbn.com
Total Stores
572
Total Sales
$3.4 billion
Year Founded
1970
Trading Areas
AL, AR, AZ, CA, CO, CT, DC, DE, FL, GA, ID, IL, IN, KS, LA, MA, MD, ME, MI, MN, MO, MS, NC,
NE, NJ, NM, NV, NY, OH, OK, OR, PA, RI, SC,
TN, TX, UT, VA, VT, WA, WI, AB, BC, ON, QC
Senior Executives
President + CEO: Richard Hayne
CEO (Urban Outfitters Group): Trish Donnelly
CFO: Frank Conforti
COO: Calvin Hollinger
SNAP

FORWARD
Pizza, politics and new stores: All part of Urban Outfitters Inc.'s plan to differentiate itself within and expand beyond the confines of apparel. In February, the company completed its acquisition of another Philadelphia-based business, the Verti Family restaurant group (8 locations), with the goal of leveraging the pizzeria and café concepts to draw twentysomethings to its stores. Wasting little time, four new locations are scheduled to open before the end of the current fiscal year. In another unusual move, the company rolled the dice on its ability to (quickly) take the pulse of its consumer and won big by getting political with anti-Trump t-shirts. And while Urban Outfitters Inc. has cut its rate of new-store openings by more than half in the last few years, Chain Store Guide projects the company will still open 25 to 30 new stores per year in the medium term. Perhaps more important than the net number of units, though, will be the composition of those stores, as the Anthropologie Group in particular seeks to capture a greater share of its customers' spend in adjacent categories such as home, accessories and beauty.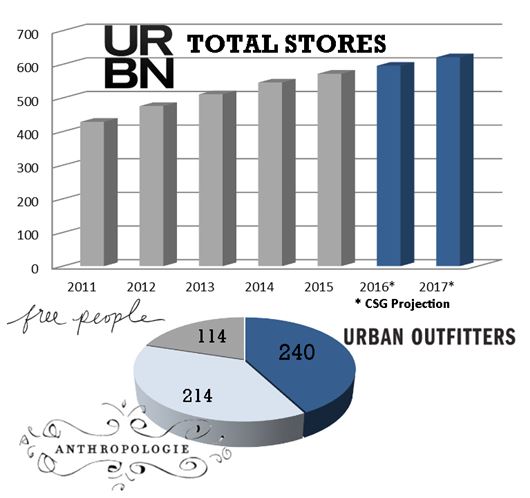 Source: Chain Store Guide Database of Apparel Specialty Stores. *CSG projection based on proprietary analysis and company statements. Actual figures are subject to change. This data is not intended for investment decisions.