CSG Snapshot: Fred's Inc.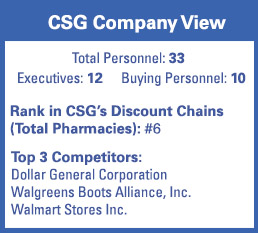 4300 Getwell Rd
Memphis TN 38118
(901) 365-8880
fredsinc.com
Total Stores
659
Total Sales
$2.2 billion
Pharmacy Sales
$1.1 billion (50.2%)
Year Founded
1947
Trading Areas
AL, AR, FL, GA, IL, IN, KY, LA, MO, MS, NC, OK, SC, TN, TX
Senior Executives
CEO: Jerry Shore
President + CEO: Michael Bloom
Exec VP of Pharmacy Operations: Rick Chambers
Exec VP + CFO: Rick Hans
SNAP

FORWARD
Change is the word at Fred's Inc. as it seeks to become a healthcare company rather than a discount/general merchandise chain with a couple hundred pharmacies. This strategy rests on the fact that more than three-fourths of the 659 Fred's stores (377 pharmacy departments) are located in (often rural) markets with populations of less than 15,000 that are home to limited pharmacy options. As seen in the graphic, the transition is underway. Pharmacy sales are up $369 million over two years, serving as the catalyst for overall sales growth, and now account for more than 50% of total store sales. Moving forward, the recent acquisition of EntrustRx (three stores) provides the company with a point of entry into the specialty-pharmacy segment. Future plans call for retrofitting existing non-pharmacy stores with pharmacy departments, placing pharmacies in all new stores and acquiring new locations for the Fred's Xpress format, smaller-scale stores where pharmacy operations take precedence, which currently comprise 60 of the company's 659 stores.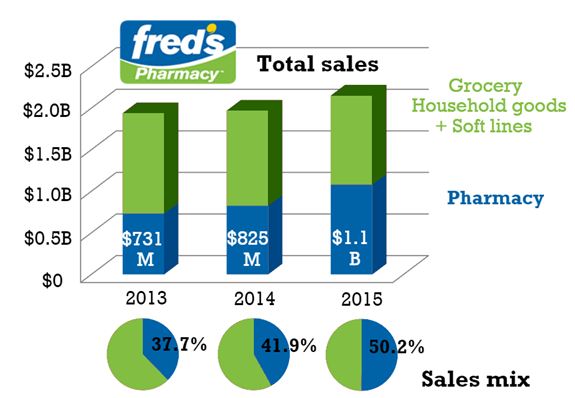 Source: Chain Store Guide's Drug Store & HBC Chains Database.