CSG Snapshot: Black Bear Diners Inc.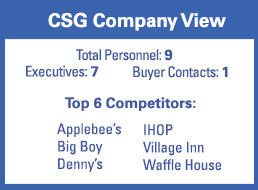 1880 Shasta St
Redding CA 96001
(530) 243-2327
www.blackbeardiner.com
Total Stores
81
Systemwide Sales
$180 million
Year Founded
1995
Trading Areas
AZ, CA, CO, ID, NV, OR, UT, WA
Senior Executives
President + Co-Founder: Bob Manley
CEO + Co-Founder: Bruce Dean
SNAP

FORWARD
California-based Black Bear Diners Inc. is growing. The company has banked 22 consecutive quarters of increased same-store sales to go along with an 18 percent increase in system wide sales last year ($180 million). According to Chain Store Guide's Database of Chain Restaurant Operators, the company has grown its total store count by 30% in the last 18 months, from 63 units to close 2014 to 81 units as of this writing. Look for the company to add a handful of additional units by the end of this year and surpass the 100-unit mark by late 2017 or early 2018 with all growth coming from franchised stores. With an influx of private capital in February 2016, the company is looking to establish a presence in the eastern US, with deals expected in the next 18 months.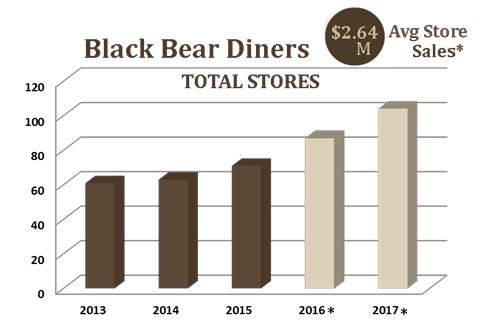 Historical Data Source: Chain Store Guide's Database of Chain Restaurant Operators. *CSG estimate/projection based on proprietary analysis and company statements. Actual figures are subject to change. This data is not intended for investment decisions.