Alex and Ani: Positive Energy Fuels Growth
A core company belief in the power of positive energy, products made by hand in New England from recycled materials and a focus on charitable giving ($1 million in 5 years) have been a recipe for success for Rhode-Island based jewelry and accessories company Alex and Ani.
After opening 15 new stores in 2015, growing its North American store count by 35%, the company recently announced that 27 additional stores would open their doors before the end of 2016. Included in the mix will be new locations in California, Texas and Illinois along with the first Ohio Alex and Ani store, as the company seeks to build upon and expand its footprint away from the East Coast.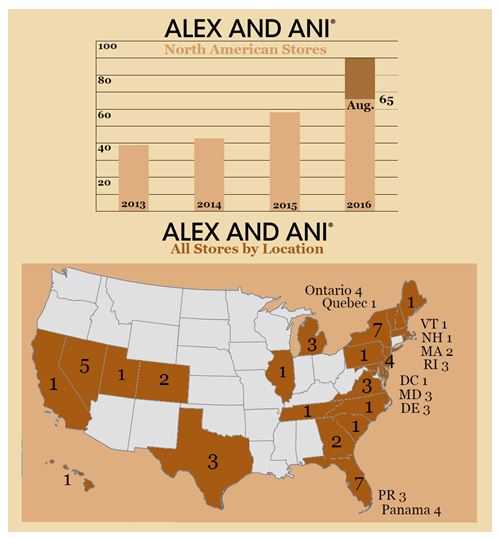 Source: Chain Store Guide Database of Apparel Specialty Stores and company reports.
In addition to stand-alone storefronts, Alex and Ani currently boasts more than 330 shop-within-a-shop locations globally and a worldwide network of more than 1,500 retailers.