A story about the town of Sheboygan, Wisconsin (not to be confused with the city of Sheboygan to its south) and its efforts to lure retail developers to its fair streets recently caught our eye at Chain Store Guide. We thought it was a great excuse to break out our new Retail and Restaurant Market Share Reports to have a look at a number of retail segments in the Sheboygan market – the 517 square mile Core Based Statistical Area (CBSA) that doubles as a county. The following charts provide a brief summary of current market-share data for department-store, apparel and discount chains along with the casual dining and quick serve restaurants.
Walmart, as one might expect, dominates the discount space. Target and the Bon-Ton's Boston Stores with one and two Sheboygan locations, respectively, generate a CSG-estimated $20+ million in revenue, which along with the single Kohl's and ShopKo locations (each with CSG-estimated annual sales of $12+ million) comprise the top tier of these retail segments.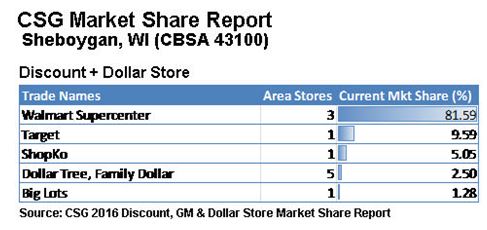 Examining the foodservice market, Texas Roadhouse and McDonald's currently capture the largest share of consumer spend in their segments. One thought that immediately jumps out from this data is the relative lack of casual and fast-casual chains with a presence in the area. Average household income for the Sheboygan CBSA tops $65,000 (as seen below) well north of the US average ($51,000). The median age is 41.36, which trends significantly higher than the US median age of 36.80. Even with a relatively small population, a location along Interstate 43 (Milwaukee to Green Bay) should appeal to brands such as Olive Garden that count aging Gen X-ers and baby boomers as key constituents.