CSG Snapshot: Sheetz, Inc.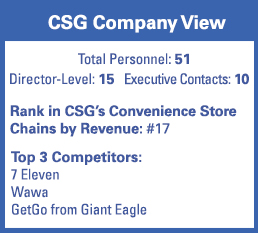 5700 6th Ave
Altoona PA 16602
(814) 946-3611
www.sheetz.com
Total Stores
527
Total Sales
$6.9 billion (e)
Year Founded
1952
Trading Areas
MD, NC, OH, PA, VA, WV
Senior Executives
Chairman: Stan Sheetz
President + CEO: Joe Sheetz
Exec VP Operations: Travis Sheetz
SNAP

FORWARD
Cross-state rival and fellow regional power Wawa (Philadelphia) gets more widespread media love of late (given its 75-store building binge in 2015, a larger overall footprint of 730+ stores and an aggressive Florida expansion plan that kicked off in 2012) but business is good for Altoona, PA-based Sheetz, Inc. With its Made-to-Order (MTO) branded salad and sandwich operation (including the requisite touchscreen ordering system), Sheetz has been leveraging foodservice-as-a-revenue-driver long before fresh food was cool in the C-Store space. Turning an eye towards the future, Sheetz is reportedly in quiet yet substantive talks with Tesla to place the company's branded chargers in its stores. The July 4th holiday anchored a four-pack of store openings that helped Sheetz, one of the fastest-growing family-owned companies in the C-Store space, keep pace for another 25 to 30 store openings this year. Having passed store #500 in early 2015, Sheetz now looks to 750 as its next benchmark.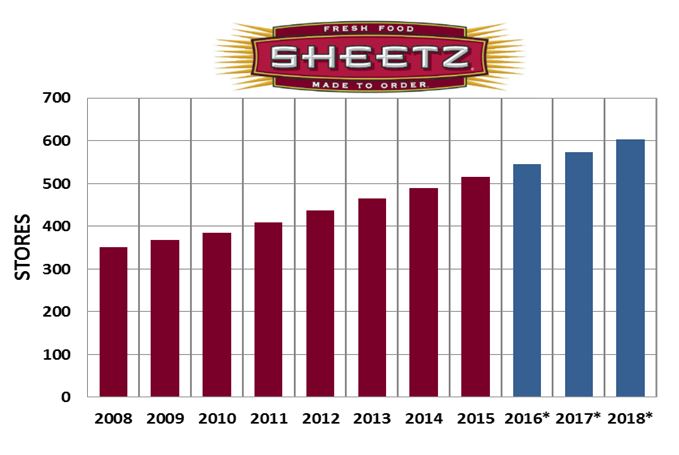 Historical Data Source: Chain Store Guide's Database of Supermarket, Grocery and Convenience Store Chains. *CSG Projection. Estimated growth is based on proprietary trend analysis. Actual figures are subject to change. This data is not intended for investment decisions.