CSG Snapshot: PETCO Animal Supplies Inc.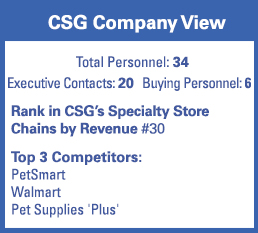 10850 Via Frontera
San Diego CA 92127-1705
(858) 453-7845
www.petco.com
www.unleashedbypetco.com
Total Stores
1,431

Total Sales
$4.2 billion (e)
Year Founded
1965
Trading Areas
AK, AL, AR, AZ, CA, CO, CT, DC, DE, FL, GA, HI, IA, ID, IL, IN, KS, KY, LA, MA,
MD, ME, MI, MN, MO, MS, MT, ND, NE, NH, NJ, NM, NV, NY, OH, OK, OR, PA, PR,
RI, SD, TN, TX, UT, VA, VT, WA, WI, WY
Senior Executives
Chairman + CEO: James Myers
President: Brad Watson
Exec VP + CFO: Michael Nuzzo
SNAP

FORWARD
It's like PetSmart. But different. With less revenue. But more capital letters. 2015 saw PETCO explore both the possibility of going public and merging with rival PetSmart (though not at the same time) in a bid to do something (anything) with itself. During these dalliances, the company took its foot off of the building accelerator. After neither of the aforementioned paths to prosperity panned out, PETCO has kicked back into expansion mode. Look for the company to increase its store count in the neighborhood of 5% annually in the near term.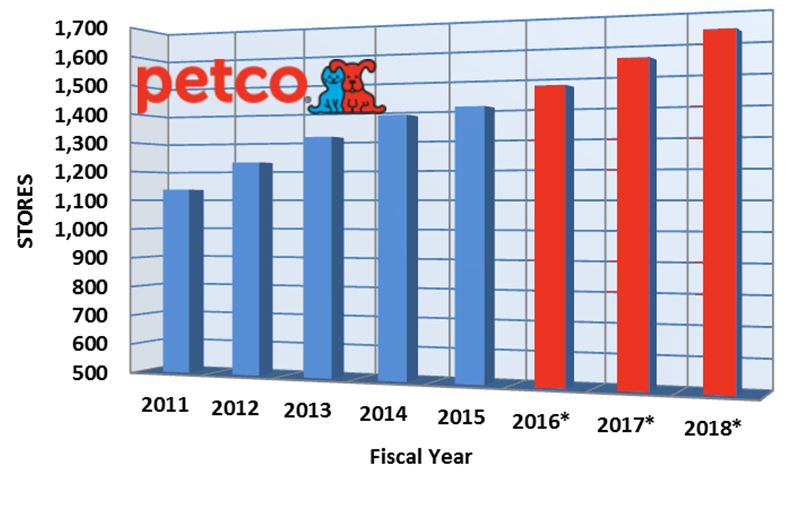 Historical Data Source: Chain Store Guide's Database of Discount Stores and Specialty Retailers.*CSG Projection. Estimated growth is based on proprietary trend analysis. Actual figures are subject to change. This data is not intended for investment decisions.