CSG Snapshot: Great Clips Inc.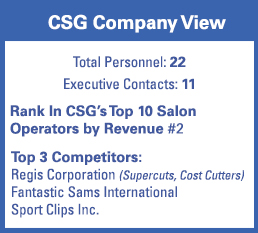 7700 France Ave S
Minneapolis MN 55435
(952) 893-9088
www.greatclips.com
Total Stores
3,843
Systemwide Sales
$1.05 billion (e)
Year Founded
1982
Trading Areas
AL, AR, AZ, CA, CO, DC, DE, FL, GA, IA, ID, IL,
IN, KS, KY, MA, MD, MI, MN, MO, MS, MT, NC, ND,
NE, NJ, NM, NV, NY, OH, OK, OR, PA, SC, SD, TN,
TX, UT, VA, WA, WI, WV, WY, AB, BC, ON, QC
Senior Executives
CEO: Rhoda Olsen
President: Steve Hockett
COO: Rob Goggins
SNAP

FORWARD
The world's largest salon brand. Who knew? Founded in 1982, Great Clips current store count sits at 3,900 locations in the US and Canada. Systemwide sales for the 100% franchisee-owned chain are on the up, to the tune of 9.5% last year (totaling an estimated $1.05 billion), and new-store openings are the rule with an average annual growth rate north of 7% over the last five years.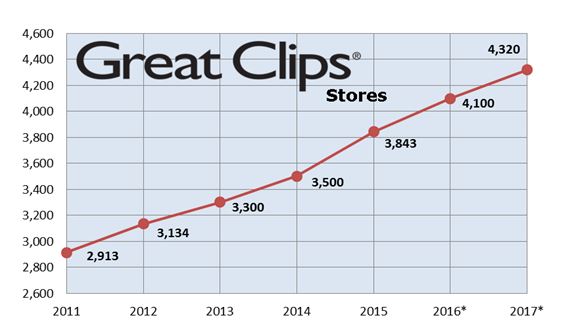 Source: Chain Store Guide's Drug Store & HBC Chains Database.
*CSG estimated growth. Actual figures are subject to change. This data is not intended for investment decisions.