CSG Snapshot: BMC Stock Holdings, Inc.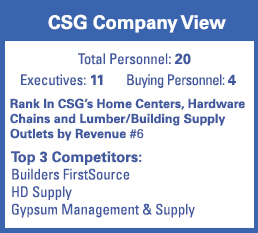 Two Lakeside Commons
980 Hammond Drive NE
Suite 500
Atlanta GA 30328
(678) 222-1219
www.buildwithbmc.com
Total Stores
139
Total Sales
$1.6 billion
Year Founded
1987
Trading Areas
AR, CA, CO, FL, GA, ID, MD, MT, NC, NM, NV, PA, SC, TX, UT, VA, WA
Senior Executives
President + CEO: Peter Alexander
Exec VP + CFO: Jim Major
SNAP

FORWARD
A year after combing forces, BMC and Stock Building Supply recently rang the opening bell on the NYSE to mark a unified approach to branding under the "BMC" name and trade dress. Here's a snapshot of the constituent parts that will now simply be BMC.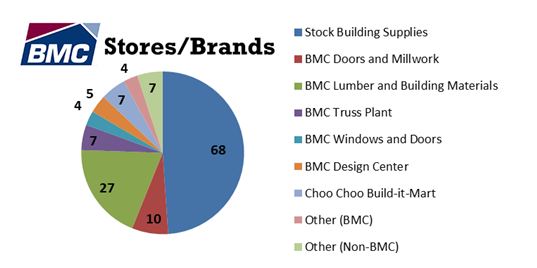 Source: Chain Store Guide's Database of Home Center Operators & Hardware Chains.