Your eleven-year-old and almost every Wall Street analyst have something in common. They both love Five Below, the fast-growing discount retailer that "offers extreme-value on thousands of trend-right products for teens and pre-teens" (in their own words).
David Schlessinger and Tom Vellios started the company in 2002, taking it public in 2012. Prior to Five Below, Schlessinger was founder and Vellios CEO of Zany Brainy, a retailer specializing in educational toys for children and pre-teens. The Zany Brainy concept went bust 2001, and Schlessinger and Vellios ditched educational toys for the cheap-stuff market.
In an uneven and often challenging environment that has the backs of many retailers against the wall, Five Below's stock price hit a 52-week high this month upon release of its first-quarter earnings. The company reported a 25% net sales increase (4.9% comp store) for the previous four quarters and a 19% increase in store count. The company plans to add a total of 85 new stores in 2016 to a 2015 base of 439.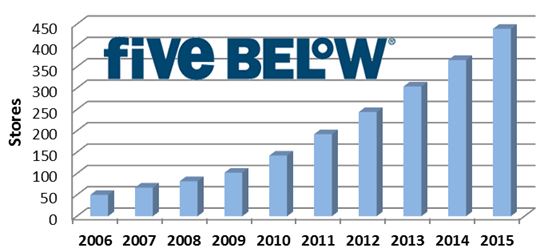 Source: Chain Store Guide Database of Discount Stores and Specialty Retailers
The Five Below playbook reads like a mashup of strategic plans from the dollar-store and fast-fashion segments, two additional retail bright spots. The former relies on older consumers for success while the latter targets Millennials and Generation Z.
✔  Price: Merchandise priced between $1 and $5 brings the dollar-store experience to the younger set working with allowance-level funds.
✔  Disposable product: As with dollar stores and purveyors of fast fashion, we're not talking about heirloom-quality purchases here, rather something, anything, to enjoy this weekend (and maybe the next). Fun, low-price, disposable product keeps the kids coming back for more.
✔  Selection: Assuming the role of the Forever 21 in the general merchandise space and responding to its audience's demand for the new and the now, Five Below provides shoppers with a constantly changing selection.
✔  Brands: Markedly unimportant to this demographic in the apparel space, on-trend brands like Star Wars, Hello Kitty, Marvel and Shopkins at the above-mentioned price points are a competitive advantage, especially as compared to knock-off and off-brand offerings in toys and games at other deep discounters.
In addition to these factors, Five Below benefits from its ability to attract consumers above and beyond its target market owing to a general attraction to the dollar-store experience and the ever-increasing tendency for older adults to identify with childhood/teenage interests and products (think Star Wars and Hello Kitty).