CSG Snapshot: Costco Wholesale Corp.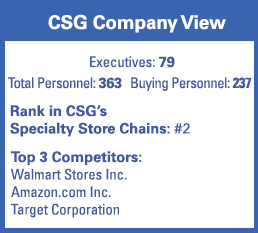 999 Lake Dr
Issaquah WA 98027
www.costco.com
Total Stores
705
Total Sales
$113.7 billion
Year Founded
1976
Trading Areas
AK, AL, AZ, CA, CO, CT, DE, FL, GA, HI, IA, ID, IL, IN, KS, KY, MA, MD, MI, MN, MO, MT, NC, NE, NH, NJ, NM, NV, NY, OH, OR, PA, PR, SC, TN,
TX, UT, VA, VT, WA, WI, AB, BC, MB, NB, NL, NS, ON, QC, SK
Senior Executives
CEO + President: W. Craig Jelinek
CFO + Exec VP: Richard Galanti
SNAP

FORWARD
As Costco prepares to make the leap from AMEX to Visa this month, here's a look at how many stores CSG projects Visa will be servicing. Averaging approximately 20 new stores a year over the last five years, Costco was ambitious in fiscal 2015, adding 35 new locations. The company is catching its breath in 2016, and we see them returning to form with 20+ new locations a year in 2017 and 2018.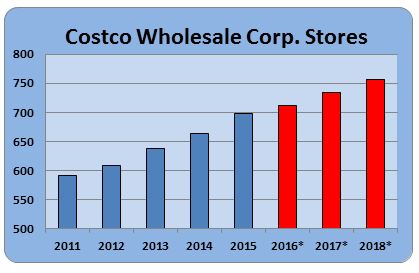 Historical Data Source: Chain Store Guide's 2016 Discount Stores & Specialty Retailers Database.
*CSG estimated growth. Actual figures are subject to change. This data is not intended for investment decisions.