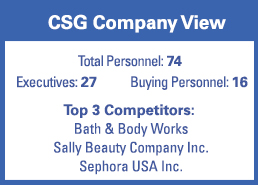 1000 Remington Blvd
Bolingbrook IL 60440-4708
(630) 410-4800
www.ulta.com
Total Stores
874
Total Industry Sales
$3.9 billion
Year Founded
1990
Trading Areas
AK, AL, AR, AZ, CA, CO, CT, DE, FL, GA, HI, IA, ID, IL, IN, KS, KY, LA, MA, MD, ME, MI, MN, MO, MS, MT, NC, ND, NE, NH, NJ, NM, NV, NY, OH, OK, OR, PA, RI, SC, SD, TN, TX, UT, VA, WI, WV
Senior Executives
CEO: Mary Dillon
CFO: Scott Settersten
SNAP

FORWARD
The largest beauty retailer in the US continues to produce ridiculous levels of growth. For 2015, Ulta grew net sales by 21% to $3.9 billion, comparable store sales grew by 11%, and net income was up 23%. Q1 2016? Net sales up 23%. Comp sales up 15%. Net income up 37%. Store growth is one part of this equation. Expect 100 new stores in 2016.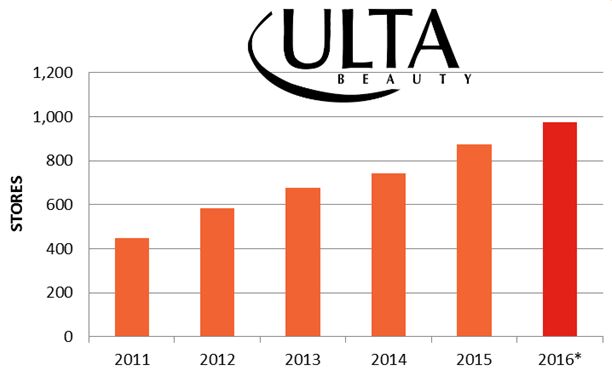 Source: Chain Store Guide's Drug Store & HBC Chains Database.
*Projection based upon company statements.