CSG Snapshot: The Sherwin-Williams Co.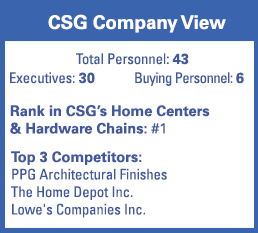 101 W Prospect Ave
Cleveland OH 44115
(216) 566-2000
www.sherwin-williams.com
Total Stores
4,086
Total Sales
$7.2 billion
Year Founded
1946
Trading Areas
AK, AL, AR, AZ, CA, CO, CT, DC, DE, FL, GA, HI, IA, ID, IL, IN, KS, KY, LA, MA, MD, ME, MI, MN, MO, MS, MT, NC, ND, NE, NH, NJ, NM, NV, NY, OH, OK, OR, PA, PR, RI, SC, SD, TN, TX, UT, VA, VT, WA, WI, WV, WY, BC, MB, NL, NS, ON, QC
Senior Executives
President + CEO: John Morikis
Senior VP Human Resources: Thomas Gilligan
Senior VP Finance + CFO: Sean Hennessey
Senior VP General Counsel + Secretary: Catherine Kilbane
Senior VP Corporate Planning, Development and Administration: Timothy Knight
Senior VP + Corporate Controller: Allen Mistysyn
Senior VP Corporate Communications and Public Affairs: Robert Wells
SNAP

FORWARD
The dominant player in the paint game solidified its position when it agreed to buy Valspar in March, acquiring markets, brands and technology in the process for its Consumer Group. The Paint Store Group continues its methodical march to 5,000 stores that was boosted in 2013 when it rolled 300+ Comex stores into the fold. Look for 100 or so new store openings in total for 2016.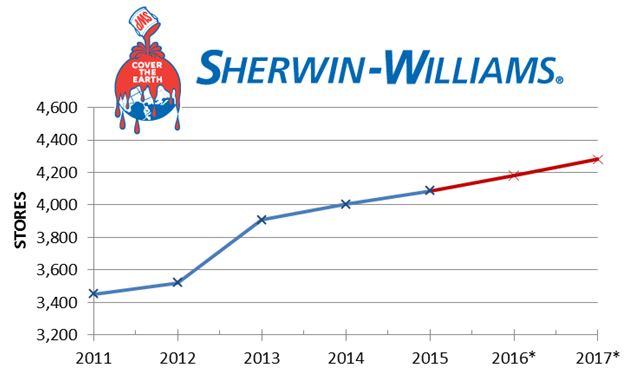 Historical Data Source: Chain Store Guide's Database of Home Centers & Hardware Stores. *CSG estimated growth. Actual figures are subject to change. This data is not intended for investment decisions.