CSG Snapshot: The Marmaxx Group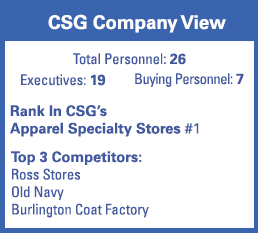 770 Cochituate Rd
Framingham MA 01701
(508) 390-1000
www.marshallsonline.com
www.tjmaxx.com
www.tjx.com
Total Stores
2,163
Total Sales
$19.9 billion
Year Founded
1977
Trading Areas
AK, AL, AR, AZ, CA, CO, CT, DC, DE, FL, GA, HI, IA, ID, IL, IN, KS, KY, LA, MA, MD, ME, MI, MN, MO, MS, MT, NC, ND, NE, NH, NJ, NM, NV, NY, OH, OK, OR, PA, PR, RI, SC, SD, TN, TX, UT, VA, VT, WA, WI, WV, WY
Senior Executives
President + CEO: Ernie Herrman
CFO: Scott Goldenberg
Group President: Nan Stutz
SNAP

FORWARD
The silent killer. If you're not in the habit of monitoring the apparel industry, you wouldn't hear much about the Marmaxx Group. But while an entire industry struggles, T.J. Maxx and Marshalls continue to book strong results and grow their footprint. With next-to-no online retail presence, it's all about foot traffic and off-price brand name product.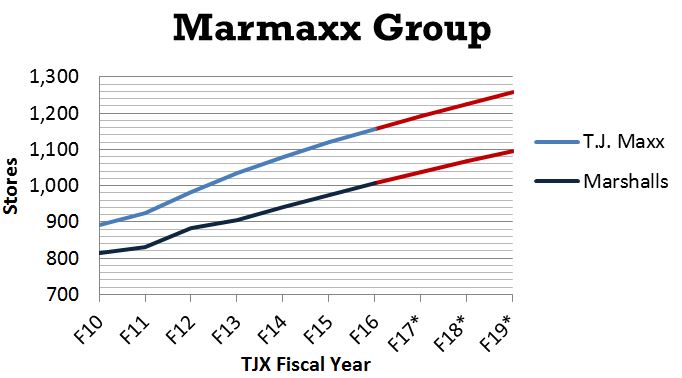 Historical Data Source: Chain Store Guide's Apparel Specialty Stores Database.
*CSG Projection. Data is not intended for investment decisions.