From a single Michigan pharmacy first opened in 2009, company President Alpesh Patel and CFO Manish Patel have grown Benzer Pharmacy into one of the leading independent pharmacy chains in the US in less than 10 years. A focus on compounding, specialty pharmacy and customer service that strives to exceed expectations helped Benzer add 18 locations in 2015 to end the year with 49 stores.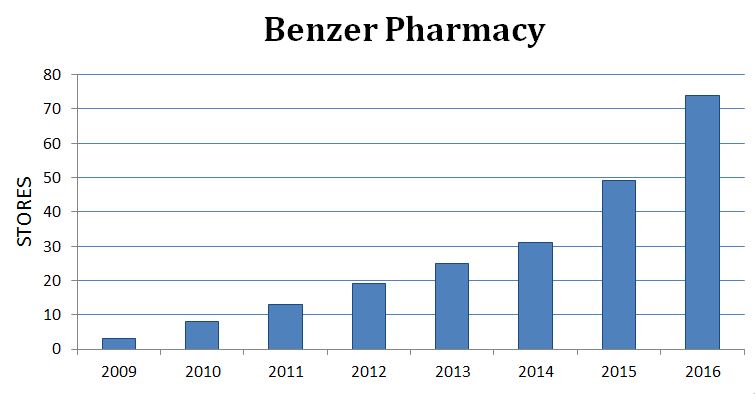 Historical Data Source: Chain Store Guide's Drug Store Database. 2016 figures based upon company projections.
With seven locations opened to date in 2016, making it more than 50 locations in nine states, Benzer Pharmacy is on pace to reach its goal of 20 to 30 new locations in 2016 which would move it squarely into Chain Store Guide's Top 10 Independent Drug Chains rankings.
Not content with being a leader in the independent space, Benzer has its sights set on becoming the largest independent chain in the US. Plans call for taking growth to another level – 600 stores in short order – through a combination of new company-owned stores, its franchising plan for new businesses and a conversion plan for existing independents.