A week after closing the deal to acquire The Fresh Market and take it private, Apollo Management Group announced the closing of 13 locations, marking an end to the company's presence in four states – Iowa, Kansas, Missouri and Texas.
The move bucks the recent growth trend among the major players in the specialty grocer space, as seen below, as well as the smaller concepts like Earth Fare and Fresh Thyme.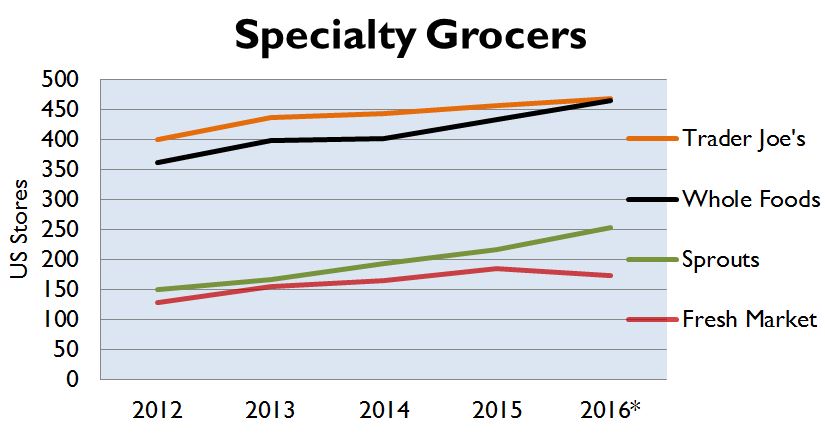 Source: Chain Store Guide's Supermarket, Grocery & Convenience Store Database. *CSG projections. Actual figures are subject to change. This data is not intended for investment decisions.
It appears that in shutting down operations in these states, the Apollo Group has called it a day for business west of the Mississippi. The lone Fresh Market location in Oklahoma and the two in Arkansas now jut out like a sore thumb on the Fresh Market map. Shoppers in these states should not be surprised if their stores aren't long for this world.
The moves make sense on a number of levels, though. Given the brand's current performance, massive expansion into new, relatively far flung markets doesn't seem to be a judicious use of capital.
Large-scale store expansion in any market may not be in the cards. Data from Chain Store Guide's Supermarket, Grocery & Convenience Store lays bare the challenge The Fresh Market has on its hand: According to CSG data, of the four specialty grocery chains charted above, The Fresh Market produces the least revenue per square foot. While its sales of $460 per sq. ft. beat the industry average, that's approximately 30% less than those realized by on-the-rise Sprouts, and it pales in comparison to CSG's numbers for Whole Foods ($900+ per sq. ft.) and Trader Joe's ($2,500+ per sq. ft.).
With a footprint that's not realizing its potential and an increasingly crowded specialty market, new owners Apollo Management are right to tighten things up and attempt to maximize revenue and profits closer to home.