CSG Snapshot: Lululemon Athletica Inc.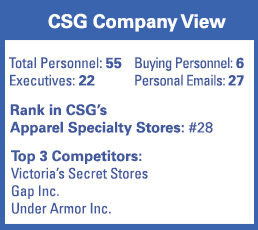 1818 Cornwall Ave
Vancouver, BC V6J 1C7
(604) 732-6124
www.ivivva.com
www.lululemon.com
Total Stores
363
Total Sales
$2.1 billion
Year Founded
1998
Trading Areas
AL, AR, AZ, CA, CO, CT, DC, FL, GA, HI, IL, IN, KS, KY, LA, MA, MD, ME, MI, MN, MO, MS, NC, NE, NJ, NM, NV, NY, OH, OK, OR, PA, RI, SC, TN, TX, UT,VA, VT, WA, WI, AB, BC, MB, NS, ON, QC, SK
Senior Executives
CEO: Laurent Potdevin
CFO, Exec VP Operations: Stuart Haselden
SNAP

FORWARD
Lululemon hit the $2 billion mark and grew its online business to just under 20% of total revenue during a sensational 2015. Management is focused on growth with an eye towards ensuring their supply chain infrastructure is scalable and up to the task ahead, which includes North American and international expansion as well as growing its digital business to 25%-30% of total sales by 2020. CSG projects year-over-year store growth around 15% in the coming years.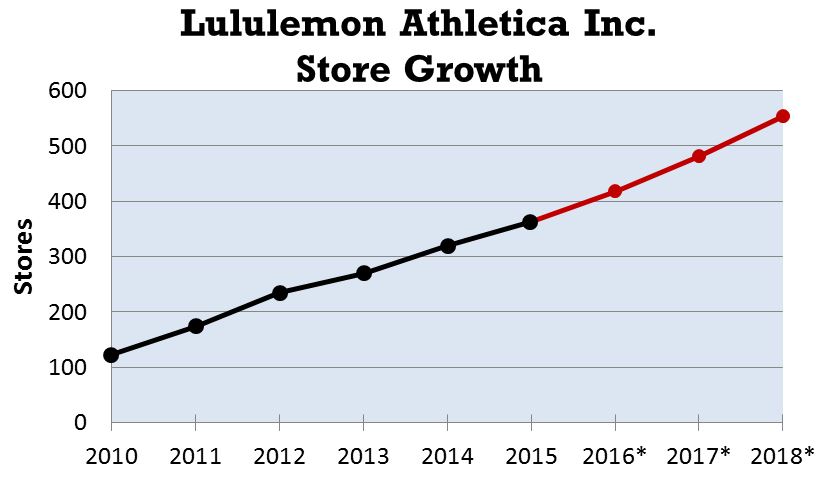 Estimated growth is based on a proprietary trend analysis. Actual figures are subject to change. This data is not intended for investment decisions.