CSG Snapshot: Lowe's Companies Inc.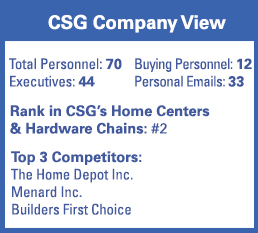 1000 Lowes Blvd
Mooresville NC 28117
(704) 758-1000
lowes.com
Total Stores
1,857
Total Sales
$59.1 billion
Year Founded
1946
Trading Areas
AK, AL, AR, AZ, CA, CO, CT, DC, DE, FL, GA, HI, IA, ID, IL, IN, KS, KY, LA, MA, MD, ME, MI, MN, MO, MS, MT, NC, ND, NE, NH, NJ, NM, NV, NY, OH, OK, OR, PA, RI, SC, SD, TN, TX, UT, VA, VT, WA, WI, WV, WY, AB, ON
Senior Executives
Chairman, CEO + President: Robert Niblock
CFO: Robert Hull, Jr.
COO: Rick Damron
SNAP

FORWARD
As Lowe's works through the acquisition of Canadian firm Rona, Inc. and its 500+ locations, we take a look at the total number of Lowe's Companies, Inc. locations in the last five years, a period that has seen little relative growth. Organic growth in Canada has likewise been slow. Currently, Lowe's has approximately 50 Lowe's branded stores in Canada, including the acquisition of a dozen Target Canada locations in 2015. Assuming regulatory approval is granted for the move, the latter half of 2016 and 2017 should be eventful for the retail giant.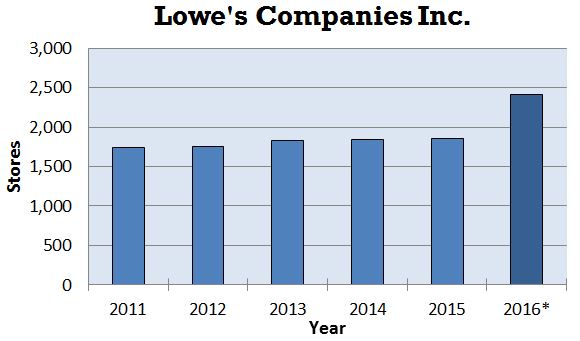 Historical Data Source: Chain Store Guide's Database of Home Centers & Hardware Stores. *CSG projection based upon completed acquisition of Rona, Inc. and organic growth.