Tough Times for Teen Retailers of the Past
As we commented in Chain Store Guide's April 13, 2016 Apparel Snapshot a set of companies and brands once considered teen and young-adult retail royalty in the not-so-distant past have arrived at a crossroads. Pacific Sunwear, Aeropostale and Abercrombie & Fitch share a common story – stagnate/declining sales and store closings – in the face of a fast fashion onslaught exemplified in the likes of Forever 21 and H & M.
In the past eight weeks alone, Abercrombie & Fitch announced the closing of an additional 60 US stores in fiscal 2016 in an attempt to "right size" their footprint, Pacific Sunwear filed for Chapter 11 bankruptcy,  Aeropostale was delisted on the New York Stock Exchange (NYSE), reports of an imminent Aeropostale bankruptcy filing run rampant.
As seen below, store data from Chain Store Guide's Apparel Specialty Store Database places the fortunes of these retailers in stark relief. The chart shows a clear narrowing of the gap in number of stores between the "past" and "present" of teen and young adult retailers, a trend that has accelerated in the last three to four years – demonstrating how quickly fortunes can be reversed when targeting this demographic.
"Quickly" is the key word, and it speaks to one of the most important underlying factors in the success of Forever 21 and H & M – and the struggle of the other three. Millennials comprise today's teen and young adult market, and more so than previous cohorts they're tuned to the now, the new and the instantly exciting. Fast fashion retailers with low cost, constantly changing selections are poised to meet these demands by offering a purchase for tonight not an investment in the future.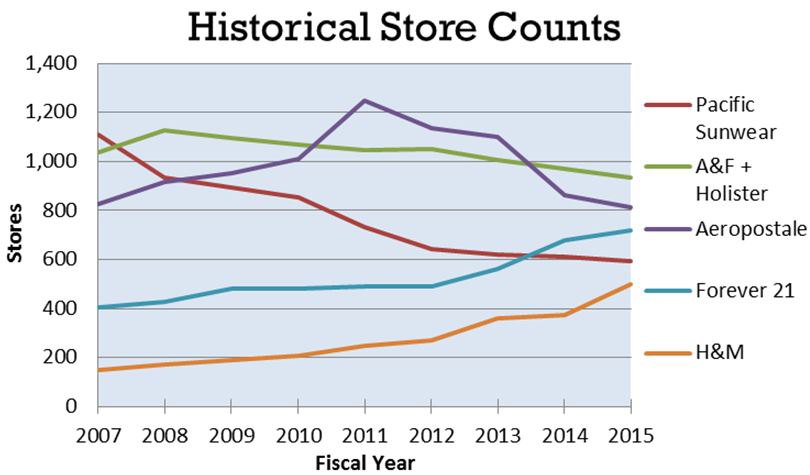 Source: Chain Store Guide's Apparel Specialty Store Database.