Kroger market share across the country
Recently released data from CSG's 2016 Grocery Industry Market Share Report highlights continued growth for Kroger across the country and within key metro markets. The fivPreview Changese core-based statistical areas (CBSAs) below illustrate the breadth and depth of localized brand- and format-based strategies Kroger employs to sustain growth.


*Source: Chain Store Guide's 2016 Grocery Industry Market Share Report.

The various paths to success include:

Denver: Kroger leveraged the King Soopers brand to move from strength-to-strength.

Detroit: The company acquired Detroit-based Hillers in 2015 to add to its Michigan base, rebranding some locations and closing others. Detroit expansion plans currently focus on Kroger Marketplace locations (three), ClickList (online-order) collection sites, and fuel centers.

Nashville: The Nashville market features many facets of the Kroger story of late — sales growth; store growth; an acquisition (Harris Teeter); new-store openings; and the remodeling, rebranding and closing of a number of stores (including a number of Harris Teeter locations).

Indianapolis: The greater Indianapolis core-based statistical areas (CBSA) saw organic growth primarily from flagship Kroger-branded stores.

St Louis: Kroger has pegged the Ruler Discount Foods brand and format as the means of re-entering the St. Louis market. Current plans call for a total of 10 Ruler locations.
Taking a closer look at the Denver-Aurora-Lakewood, CO CBSA we can also see what a fairly typical Kroger-led geographical market looks like.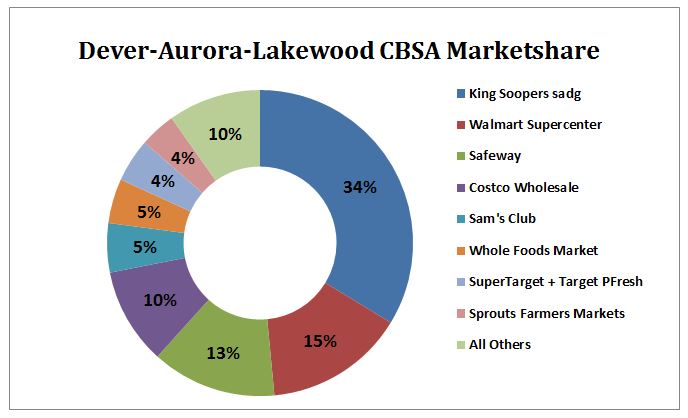 *Source: Chain Store Guide's 2016 Grocery Industry Market Share Report.