CSG Snapshot: Restoration Hardware Holdings, Inc.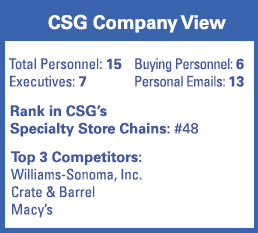 15 Koch Rd
Corte Madera CA 94925
(415) 924-1005
restorationhardware.com
Total Stores
86
Total Sales
$2.1 billion
Year Founded
2002
Trading Areas
AL, AZ, CA, CO, CT, DC, FL, GA, IL, IN, KS, LA, MA, MD, MI, MN, MO, NC, NJ,
NY, OH, OK, OR, PA, RI, TN, TX, UT, VA, WA, WI, BC, ON
Senior Executives
Chairman, CEO: Gary Friedman
CFO: Karen Boone
COO: Ken Dunaj
SNAP

FORWARD
It's been good being Restoration Hardware. 20%+ revenue growth for 5 consecutive years and a stock price in the $100-per-share neighborhood is not bad for business either. But as they say, "All good things…" Rather, it's more of a breather for the company. FY2015 results (FYE 1/30/2016) included revenue topping $2 billion for the first time, reflecting 13% year-over-year growth. Still, not so bad. That said, RH itself forecasts revenue growth in the "low to mid-single digit range" for F2016 as it irons out supply issues and figures out how to put its "next generation galleries" and new RH Modern brand to best use moving forward.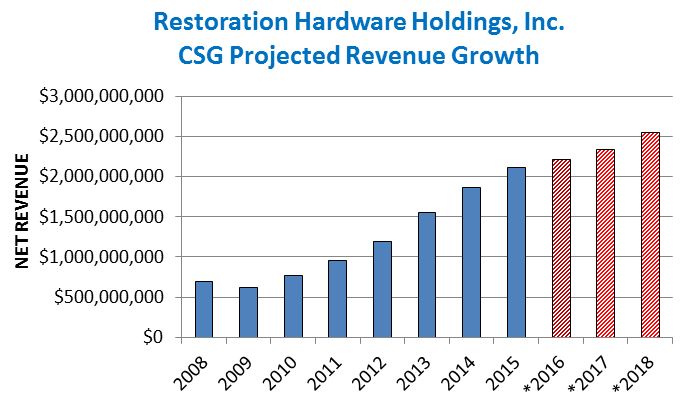 Estimated growth is based on a proprietary trend analysis. Actual figures are subject to change. This data is not intended for investment decisions.