CSG Snapshot: Pacific Sunwear of California Inc.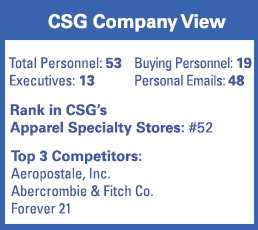 3450 E Miraloma Ave
Anaheim CA 92806
(714) 414-4000
www.pacsun.com
Total Stores
593
Total Sales
$800,900,000
Year Founded
1980
Trading Areas
AK, AL, AR, AZ, CA, CO, CT, DC, DE,
FL, GA, HI, IA, ID, IL, IN, KS, KY, LA, MA, MD, ME, MI,
MN, MO, MS, MT, NC, ND, NE, NH, NJ, NM, NV, NY, OH, OK,
OR, PA, PR, RI, SC, SD, TN, TX, UT, VA, VT, WA, WI, WV, WY
Senior Executives
President + CEO: Mr. Gary H. Schoenfeld
Senior VP + Interim CFO: Mr. Chris Tedford
SNAP

FORWARD
CSG sees more clouds in the forecast as the perfect storm continues for a group of once high-flying retailers and brands sharing a combination of common locations (shopping malls), target markets (tweens and teens) and offerings (laid-back, outdoor-inspired, often beach-and-festival style apparel). Pacific Sunwear, Aeropostale and Abercrombie & Fitch also share a common recent history — declining sales and store closings — as fast-fashion experts like H&M and Forever 21 hit their stride. PacSun reached a waypoint as it filed for Chapter 11 bankruptcy protection this month with hopes that going private will afford it time to reposition for the future.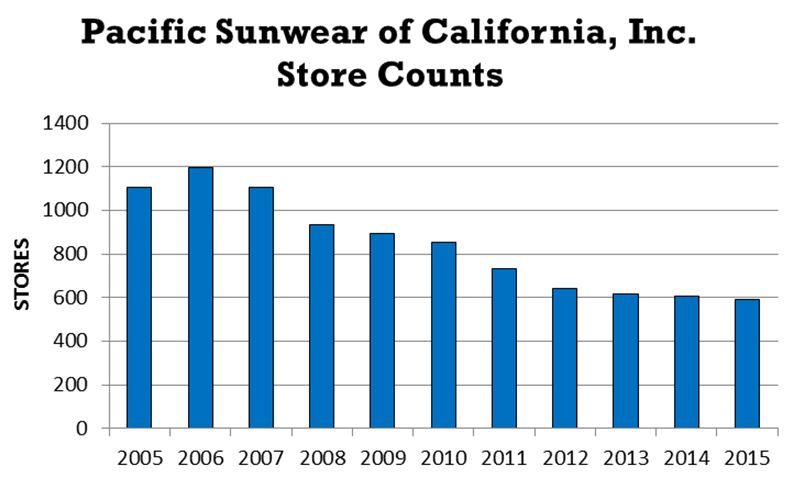 Estimated growth is based on a proprietary trend analysis. Actual figures are subject to change. This data is not intended for investment decisions.