CSG Snapshot: Harbor Freight Tools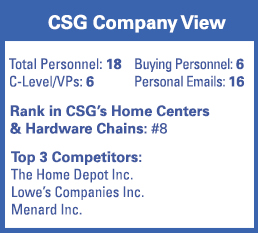 3491 Mission Oaks Blvd
Camarillo, CA 93012-5095
(805) 388-1000
harborfreight.com
Total Stores
653
Total Sales
$2,800,000,000 (e)
Year Founded
1977
Trading Areas
AL, AR, AZ, CA, CO, CT, DE, FL, GA, IA, ID, IL, IN, KS, KY, LA, MA, MD, ME, MI, MN,
MO, MS, MT, NC, ND, NE, NH, NJ, NM, NV, NY, OH, OK, OR, PA, RI, SC, SD, TN, TX,
UT, VA, WA, WI, WV, WY
Senior Executives
Chairman, CEO, President: Eric Smidt
CFO: Thomas Kokko
COO: Robert Rene
CTO: Steve Ross
SNAP

FORWARD
Harbor Freight Tools can be summed up in one word — growth. Calendar 2015 saw the company open a new store every three days, and they don't look to slow down in the near term. Midway through fiscal 2016 (FYE 7/31/16) the openings rate continues apace. CSG forecasts continued growth at a similar clip, slowing slightly by FY2018.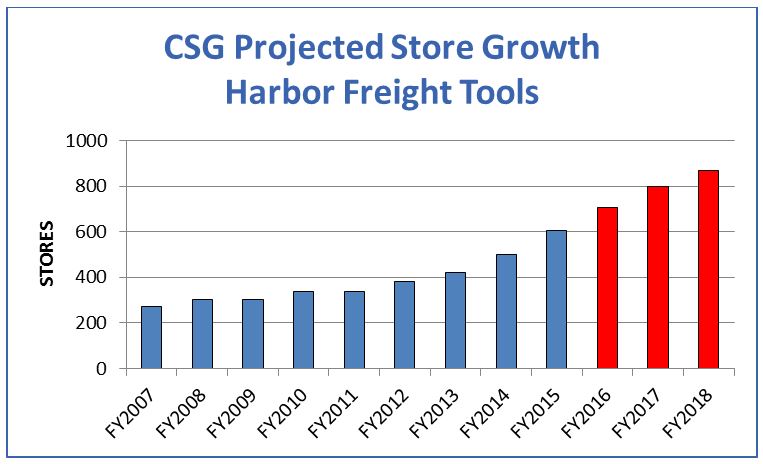 *Source: Chain Store Guide Department Store Leads Database
Estimated growth is based on a proprietary trend analysis. Actual figures are subject to change.This data is not intended for investment decisions.