CSG Snapshot: CKE Restaurants Inc.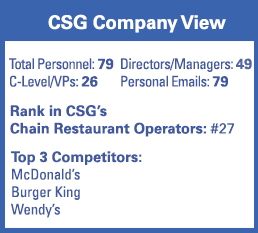 6307 Carpinteria Ave
Carpinteria, CA 93013-2908
(805) 745-7500
ckr.com
Total Stores
3,648
Total Sales
$1,359,000,000 (e)
Year Founded
1941
Trading Areas
AK, AL, AR, AZ, CA, CO, DE, FL, GA, HI, IA, ID, IL, IN, KS, KY, LA, MD, MI, MN, MO, MS, MT,
NC, ND, NE, NM, NV, OH, OK, OR, PA, SC, SD, TN, TX, UT, VA, WA, WI, WV, WY
Senior Executives
CEO: Andrew F. Puzder
CFO, Exec VP: Theodore Abajian
President, Chief Legal Officer: E. Michael Murhpy
COO: Eric Williams
CIO, Exec VP Strategic Planning: Jeffrey P. Chasney
Chief Marketing Officer: Bradford R. Haley
SNAP

FORWARD
The parent company to the Carl's Jr. and Hardee's chain will move corporate headquarters to Nashville, TN in 2017. 2015 saw total stores (company-owned and franchised) grow by 159 units, the largest net increase in years. CSG analysis posits continued growth in total stores for the Carl's Jr. and Hardee's chains at approximately 3% annually.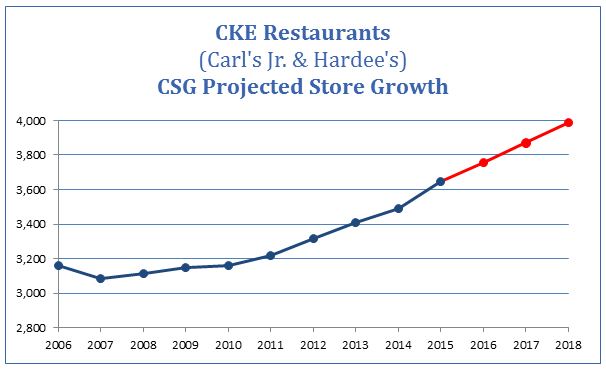 *Historical Data Source: Chain Store Guide's Chain Restaurant Operators Database.
Estimated growth is based on a proprietary trend analysis. Actual figures are subject to change. This data is not intended for investment decisions.