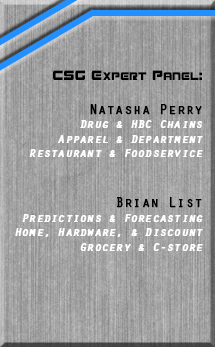 Chain Store Guide Forecasts 2016 Growth Across Retail & Foodservice Channels

With the New Year rapidly approaching, many retail and foodservice professionals are questioning future advancement. Which industries will grow or contract? How will consumer spending define the landscape in 2016?
Combining vast historical data with other predictive factors, Chain Store Guide forecasts retail growth will occur across the Convenience, Discount, and General Merchandise trade channels in 2016. The retail Drug and Grocery channels are expected to remain relatively flat, with growth rates below 1%. CSG defined growth rates in total U.S. industry store counts versus current 2015 figures.
Even though the Drug and Grocery channels project slight declines in 2016 store growth, both industries expect to remain highly active with store openings and closings. Merger and acquisition activity was especially high in the Grocery industry in 2015, with 2016 expected to remain just as eventful. For this analysis, Single-Unit Drug and Grocery operators were included, which potentially weighed the total industry counts downward. Single-unit counts have been declining for years in CSG's databases, with more stores that are closing than are acquired by competitors.
The General Merchandise channel (GM) projects the highest growth rate in 2016 at 2.6%. Lead by Dollar Stores, this channel has been steadily increasing over the past five years, and is projected to continue leading retail growth through 2020.
In 2015, CSG focused on companies that were Transformers: retailers and restaurants that brought unique propositions or concepts to the market to gain a competitive edge. What are the emerging trends that these companies must leverage in 2016 to grow and remaining competitive within each industry?
Supermarket – The consumer focus on healthy eating, fresh prepared foods, and natural/organic product sourcing should continue to drive many supermarkets strategies.
Convenience – The product-line blurring in the convenience store channel will continue in 2016. Convenience store operators must continue to look outside the traditional product realm and focus on in-store grocery and foodservice offerings.
Discount – Technology will be a key driver in the mass-merchandiser segment in 2016, with the most important element being establishing an effective omnichannel strategy. Credit card security will maintain a close second, where most retailers are investing heavily.
GM – Lead by dollar stores, the GM segment projects to be the fastest growing in 2016; effective site selection and analytics strategies will be key to these retailers optimizing new store growth.
Drug – Heavy consolidation will remain constant in 2016 within the retail drug industry, especially amongst smaller operators and independent pharmacies. For the large drug chains, this is a key area of focus for growth.
Restaurant – Restaurant chains are facing intense competition from many different angles. From a consumer standpoint, the most important factor in 2016 will be food safety, as well as providing restaurant consumers with information regarding local product sourcing. A rash of recent contamination scares in the industry will have most restaurant chains revisiting their food safety procedures.