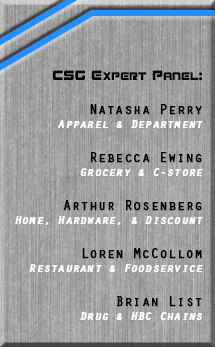 2015 will be a very exciting year for CSG's prestigious content writers and industry experts
This year, our editors have unanimously agreed on a select collection of topics. Industry Transformers will highlight companies & executives who have managed to stay relevant in this ever changing environment. They will outline how businesses and people must evolve, adapt, and transform in order to become top leaders in the marketplace.
Enjoy our eighth topic: Oldies But Goodies
Apparel & Department Store Retailers
Any company that's been around for 160 years has had to innovate. Macy's was the first American retail store with modern-day escalators, and the first to post prices in plain sight. Macy's stores were actually the first to offer same-day delivery service. Back in 1872, stores were offering free, same-day home delivery via horse and wagon. Macy's has conducted the annual Macy's Thanksgiving Day Parade in New York City since 1924 and has sponsored the city's annual Fourth of July fireworks display since 1976.
Macy's Inc. invested in talent, technology, and marketing to ensure the company's success. Each Macy's store is designed to be just right for the customer who shops that location. The company tests new ideas and adopts those that have consumer appeal. Macy's has made omnichannel an experience by making shopping easier in both stores and online.
The retailer continues to invest in the latest technology. Macy's Inc. recently announced the launch of a collaboration with online fashion tech start-up company Nineteenth Amendment on macys.com. The exclusive partnership will expose Nineteenth Amendment's up-and-coming designers to Macy's millennial shoppers, who will have the opportunity to purchase garments made on-demand in the United States from more than 300 designers worldwide. When Apple announced Apple Pay, Macy's declared that both Macy's and Bloomingdale's would be the first retailers to support this mobile payment system.
Macy's has a large portfolio of private brands that it produces for exclusive sale within its stores and websites. These brands, which are advertised in store as "Only at Macy's", account for 20% of the company's sales. "Brands aimed at millennials are the fastest-growing fashion segments at Macy's", said Chairman and CEO Terry Lundgren, in response to recent reports that the retailer might be losing its appeal to Gen Y. "You would be hard-pressed to find another retailer as aggressive as Macy's with that young customer," he said to Fortune magazine.
In January, Macy's began closing over a dozen namesake stores as the company plans to focus more on e-commerce. This March, Macy's acquired Bluemercury, a 62-store beauty chain. The company is continuing to innovate and embrace change. Seeing an opportunity in the outlet style stores, Macy's will open "Macy's Backstage" discount stores this fall in the New York City area. The stores will be about the same size as a T.J. Maxx and will offer brands like Calvin Klein, Sunglass Hut, Fila, and Reebok at discounted prices.
Discount, Dollar, & Hardware Retailers
Haverty's Furniture is quintessentially a family based company, which was founded by two Haverty brothers, James Joseph (J.J.) and Michael, in 1885. As of 1908, the company boasted 17 locations.
In the late 1920's, the family took advantage of a booming stock market and took the company public. The stock sale took place on October 1, 1929. Four weeks later the market crashed. Haverty's strong financial positions and old fashioned business ethics enabled the company to weather the market crash and the Great Depression ahead.
In 1938, J.J. Haverty's son Clarence became the company president. At this time his father J.J. became Chairman of the Board. In October 1939, just short of his 81st birthday, founder J.J. Haverty died.
Clarence Haverty began his career with his family's company by sweeping floors. He learned the business literally from the ground up and quickly aspired to positions leading to his eventual leadership of the family enterprise.
More recently, Havertys experienced continuous growth throughout the decade of the 90's. By 2001, the company boasted 100 locations. As with most of its competition, the recent recession resulted in a halt to the company's progress. The company was forced to retrench, resulting in a net reduction of four locations since the beginning of the recession. As a sign of optimism, this year the company intends to open four new locations.
Still, this seemingly old-world institution endeavors to remain vital and current. Recently the company embarked on an ad campaign designed to bring it into the millennial age. The ground breaking campaign features a young couple and their determination to show the world the wonder of individual style when contemplating the unique role quality furnishings should play in the home.
Several of the ads went viral, as the young female of the couple became somewhat of an Internet sensation, called the Havertys girl. A more recent follow-up ad has this original couple exchanging views with a new couple, which had moved from a tiny 100 sq. ft. abode to one considerably larger (3,000 sq. ft.), in hopes of accommodating much larger quantities of tempting home furnishings.
Watching a company, which was founded by a family 130 years ago successfully go viral, may seem a giant leap. However, as with most of this company's history of endeavors, Haverty always seems able to access even the most challenging of situations and rise to the occasion.
Founded in 1901, Walgreens has withstood the Great Depression, numerous recessions, and a highly evolving industry over the past century it has been in business. During the prohibition era, Walgreens gained business by selling prescription whiskey, which was legal and sold at its stores. By 1930, the company grew to 397 stores with annual sales of over $4 million. The stock market crash of 1929 and the subsequent depression did not greatly affect the company's business. Today, the drug chain operates over 8,000 locations.
Walgreens has been a driving force for innovation in the retail drug industry for years, and has been a major factor in providing healthcare alternatives and initiatives to millions of U.S. consumers. The company is a leader in the 'green' innovations movement at its retail stores, and has been a forerunner in advocating healthcare alternatives for the general public through the growth of its in-store retail clinics and pharmacy innovations. Acquisitions of Express Scripts and Alliance Boots further strengthened its position in the healthcare marketplace.
The theme 'Transformer' is centered around a company or idea that transformed an industry and/or life as we know it. This month's subtheme is to highlight a company that has had a lasting impact. While technically the Standard Oil Company currently is not in operation, this behemoth of a company led by John D Rockefeller in the late 1800's, in many ways still has had a lasting effect on many aspects of the oil and convenience store industry. If you were to read a business book from the early 1900's many would speak of the great impact this company had on the economy and the genius of Rockefeller (i.e. Think and Grow Rich and How to Make Friends and Influence People).
In 1863, John D Rockefeller, Maurice B Clark, Samuel Andrews, and later Henry M Flagler joined together to create a company that ruled an industrial empire: Standard Oil Company. By 1880, it controlled the refining of 90-95% of all oil production in the United States. The Standard Oil lubricants from its refineries were used in Thomas Edison's first central generating system and during the Wright brother's first flight. In 1882 the company created the Standard Oil Trust which included the Standard Oil Company and affiliated companies. This Trust meant that companies could be purchased, created, dissolved, merged, or divided; this eventually led to include more than 40 corporations. Because of its unfair competitive advantage, it was a major target of the US Government, but because of its complex structure, as Ida Tarbell puts it "You could argue its existence from its effects, but you could not prove it."
Finally in 1911, it was thought that the "concentration of economic power was becoming excessive" and thus the company was dissolved into thirty-four new companies. Through a series of mergers and acquisitions some of these companies later became the major players of today's oil and convenience store operators including: Chevron, ExxonMobile, and British Petroleum (BP). Each year all three of these companies are in the CSG Index of Leading Companies; last year BP was ranked 5th, Chevron was 7th, and ExxonMobile was 14th.
Standard Oil began during a time where gasoline was thought of as a nuisance and when kerosene was mostly used. Today, most of us wouldn't even be able to get to work without the gas we buy from these companies. Some say Rockefeller was an evil greedy genius and Standard Oil had an unfair advantage, which it probably did, but without Standard Oil life as we know it would be completely different, and that is the definition of a Transformer.
For this month's Industry Transformers piece, I have been tasked to spotlight a seasoned company in the foodservice industry that is innovative enough to remain relevant in today's fast-paced, technological world. Instead of picking one of the big guys that we all know quite well, I decided to travel way, way back in time to explore one of Chain Store Guide's oldest listings – The White Horse Tavern.
The original building was constructed in 1652 and was used as a residence for Francis Brinley. In 1673, 103 years prior to the signing of the Declaration of Independence, the building was bought by William Mayes Sr. and turned into a tavern, which was also used as a courthouse and city hall on numerous occasions. According to The White Horse Tavern's website, Mayes Sr. used the white horse symbol to notify visitors who could not read that his location was a tavern.
By the early 1700's, a well-known pirate and Mayes Sr.'s son, William Mayes Jr., ran the tavern until 1730 when Jonathan Nichols took over. It was then, still 59 years before America's first president, the tavern was officially named The White Horse Tavern. In 1954, the Van Beuren family donated money to help facilitate the restoration of the tavern along with The Preservation Society of Newport County. The White Horse Tavern reopened in 1957.
Today, Jeff Farrar owns The White Horse Tavern while Amy Mitchell is Function Manager and Richard "Rich" Silvia dominates the kitchen and guests' taste buds as Executive Chef. The beautifully restored historic landmark is a fine dining destination for special occasions and foodies galore. Although the average check ranges between $25 – $55, many guest reviews suggest the food and historical experience is well worth the price. The White Horse Tavern even keeps up with the craft brewery craze and brews its own beer named the "1673 IPA."
Although the tavern sits in its original location and has been honored with titles such as the "Oldest Tavern in America" and "10th Oldest Restaurant in the World," the restaurant continues to keep up with the times. The White Horse Tavern maintains its online presence and connects with guests around the world on Facebook, Twitter, and Instagram. It even takes reservations online using OpenTable's online platform.
If you haven't been convinced to visit The White Horse Tavern in Newport, RI, after seeing the pictures posted of its delectable food and beverage options, then I'd suggest heading over to Yelp or TripAdvisor and see the reviews for yourself. With an average of 4 out of 5 stars and 467 reviews across both websites, I'd say exploring and experiencing The White Horse Tavern is an unchecked box on any foodie or historian's bucket list.