Walmart has recently made a new hire, which suggests that the world's largest retailer is ready to make some major moves in the retail clinic space. A retail clinic pioneer, Sandra Ryan, has accepted a position with the company to lead its Care Clinic business. She will assume the new role of VP Walmart Care Clinics, Health & Wellness Division.
Walmart has been quietly piloting its Care Clinic model with 17 clinic openings in 2014 across several markets including Texas, Georgia, and South Carolina. These states were chosen as test markets because of their high number of people who are uninsured.
CVS and Walgreens already operate in-store clinics, but the new Walmart clinics are being marketed as primary care facilities that are capable of treating common illnesses as well as chronic diseases. A visit to one of these clinics will cost $40 plus lab fees. For Walmart employees it's just $4 per visit. The Care Clinic at Walmart offers walk-in service, seven days a week with no appointments necessary. They are owned by Walmart and staffed by nurse practitioners, medical assistants, and physicians.
Chains Store Guides database of Drug Store & HBC Chains provides information on 19 companies currently operating 1,900 in-store clinics in North America. In-store retail clinics are a growing trend among pharmacy operators in the U.S.  Since 2010, the industry has experienced 86% growth.
Number of In-store Retail Clinics*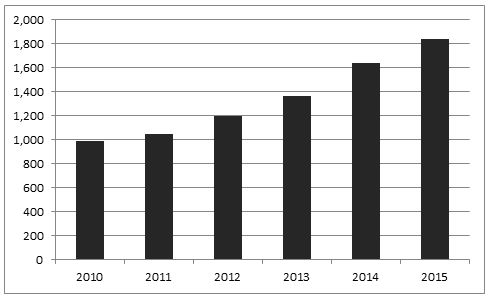 *Source: 2015 CSG Database of Drug Store & HBC Chains