Chain Store Guide's 2015 Drug Store & Health and Beauty Care Chains database contains information on over 5,800 companies.  As the leaders in the drug store industry, we can provide a range of statistical data as shown in the graphs below.  Note, the industry has experienced steady growth since 2011.
The Industry as a Whole: Five-Year Analysis – Prescription Sales*
Total U.S. Prescription Drug Sales. Sales in Billions.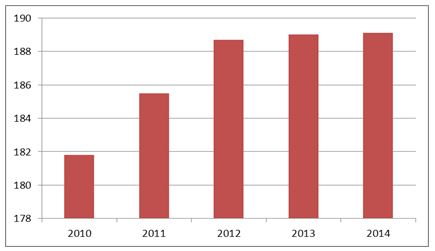 *Source: 2015 CSG Database of Drug Store & HBC Chains
The drug industry is dominated by a few top players, however prescription sales come from different retail formats. Chain Store Guide provides coverage on all supermarkets, discount stores and independent drug stores.  These represent close to a third of the industry's sales.
Percentage of U.S. Total Prescription Drug Sales by Retail Format*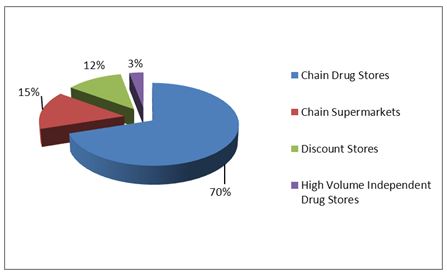 *Source: 2015 CSG Database of Drug Store & HBC Chains
Chain Store Guide information is completed with primary research by its in-house staff of professionals. Information on company headquarters and key personnel is available online and updated daily. Chain Store Guide also has a database of 60,000 pharmacy locations.