Over the weekend, I stopped at the McDonald's off of State Road 54 in Wesley Chapel, FL. While visiting any one of the 14,350 domestic stores is not usually out of the ordinary, the Wesley Chapel location had something more to offer than the others – new technology.
I first read about the new kiosk ordering system and "Create Your Taste" format being tested at the Wesley Chapel location from an article in the Tampa Tribune late March. The article explains how customers are able to search, order, and pay for their meals without any human interaction whatsoever. (If human interaction is necessary, there are employees on hand to answer any questions.) Once the order is complete, the customer grabs a "puck," picks a seat, and waits for a McDonald's employee to bring the food. The meal comes in a metal, mesh basket with the burger in an open-faced manner displaying its various ingredients.
Could this new technology and open-faced presentation be the new and improved McDonald's? As a fan of both food and technology, I had to check it out for myself.
I first want to preface the continuation of this story by saying that I'm usually pretty good at technology, but I'm also far from a technological goddess which will be quite evident below. Let's begin!
1:20pm – I walked into the store to find the restaurant was nearly full with men, women, and children of all ages enjoying their meals. I ventured over to the kiosk and did what any normal human being would do – stare blankly at this fascinating piece of technology for what felt like a couple hours.

1:22pm – After snapping out of it, I pressed the green "Touch To Start" button on the screen and up popped the first of many decisions to be made: "eat in" or "take out." I'm on my way to a family reunion, so I chose take out.
1:23pm – "How would you like to pay?" Since I'm going for the no-human-interaction-whatsoever theme, I chose to pay at the kiosk with my card. To my surprise, I wasn't asked to swipe my card yet. I would've thought the question on how I would pay would occur closer to the end. Continuing on…
1:24pm – "Hot off the grill…in 8-10 minutes" If it's fresh off the grill, I can wait the extra time, so I'll try the new "Create Your Taste" menu. First, a picture of the ¼lb burger pops up and it looks quite tasty. (Made mistake #1 here; will follow up later.) Then I clicked to add bacon and decided on the fresh artisan roll. Next, I added pickles, lettuce, mayo, ketchup, and mustard.
This doesn't seem too hard.
1:26pm – The screen says something about putting in my locator number. At first, I had absolutely no idea what this meant, so I put in my zip code, which was mistake #2 and was completely wrong. As the hunger started creeping in, I looked around for what might be considered the "locator" that possessed the correct number sequence. I noticed a plastic and metal, pager-like item to the left and figured out that this was the infamous "locator"!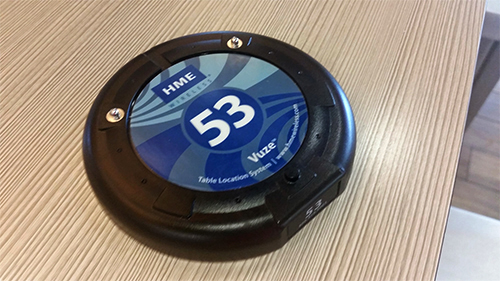 1:28pm – Now, I am asked to swipe my card. Once the payment process was completed, a receipt printed out and I was instructed to wait for my… cup? I usually like to fill up my drink cup while I wait for the meal to appear, but this is not the case here.
1:30pm – A very nice employee, Cindy, approached me to ask me if I wanted meat on my "Create Your Taste" burger. (Here's the explanation of Mistake #1) As I stared at her in complete confusion, I told her that I did want a burger on my burger. As she returned to the kitchen, I questioned my sanity and wondered if I forgot a step in the burger creating process.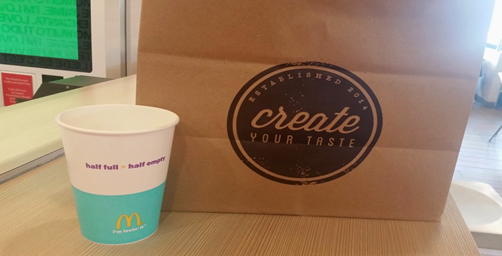 1:35pm – Cindy is now bringing my burger (that, in fact, does contain a ¼lb burger patty) and asked if there was anything else I needed. Red-faced with embarrassment, I asked Cindy if I was the only person who forgot to press the burger icon during the "Create Your Taste" process and surprisingly to know, I wasn't the only one!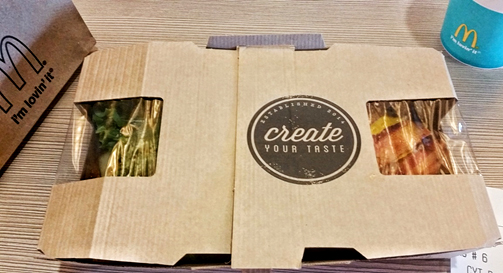 Cindy, who has been working at McDonald's for 1.5 years, reassured me that the kiosks have been a little overwhelming to some guests, but the overall response has been positive. She did mention that although the Wesley Chapel location is open 24 hours, the kiosks are only available for use between 9am – 9pm.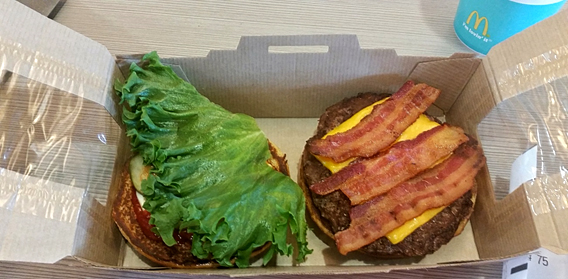 Even though the learning curve on the new kiosk system was a tad steep at first, it wasn't too difficult to figure out. With a few minor tweaks in the process, I think McDonald's might actually have something good going for the company, which is a breath of fresh air in comparison to last year's news. The impeccable service at the Wesley Chapel location holds the bar high not only for other McDonald's locations in the U.S., but for all quick serve locations nationwide.