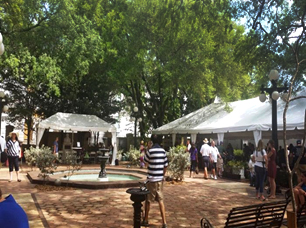 While most of the other 49 states dealt with less than desirable weather this spring, it was a cool eighty-five degrees here in historic Ybor City, Florida. Although it was a slightly humid Sunday, hungry stomachs of all ages hurried to the streets of Ybor for the 4th Annual Cuban Sandwich Festival.
On March 22nd, food trucks, restauranteurs, vendors, and Cuban sandwich makers from all over the sunshine state lined the brick paved streets of Ybor with hopes to not only quench those hunger pangs, but to open the eyes and hearts of Tampa Bay residents to the rich history and culture surrounding this most famous sandwich.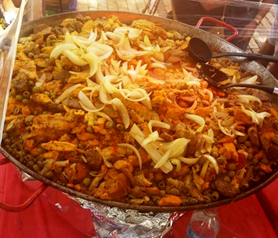 After about an hour of exploration and intense salivating, my friend and I decided that we would indulge our taste buds by trying a few traditional dishes and comparing Miami's version of the Cuban sandwich to our very own Tampa Cuban. If you don't know the beef between the two cities, then I will let you in on a little gossip.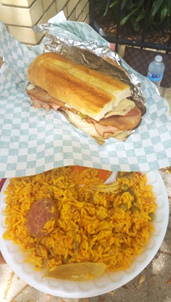 According to the city of Miami, the city of Tampa has been making the Cuban sandwich all wrong. While both sandwiches generally include Cuban bread, marinated pork roast, ham, Swiss cheese, dill pickles, and mustard, the Tampa Cuban sandwich includes one more thing – Genoa salami. To some, a few slices of salami doesn't make that much of a difference. To others, it makes the Cuban sandwich the best sandwich on the planet.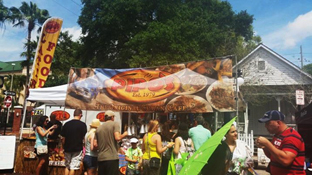 Now, I know what you are probably thinking: how could there be so much debate over a few slices of salami? The answer is quite simple really. It boils down to deep-seeded roots of Ybor City's very own Cuban history.
In the 1880's, the cigar industry shifted to the Tampa Bay Area, more specifically Ybor City, where the Cuban sandwich quickly became what was known as the "working man's sandwich." At this time, the Cuban sandwich did not contain Genoa salami, but due to the influence of Italian immigrants who lived side-by-side with the Cubans and Spaniards in Ybor City, it wasn't long until it became a staple in everyone's lunchbox.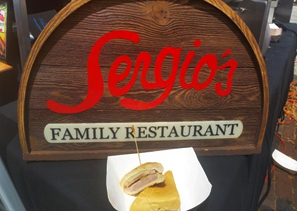 Of course, with anything customizable, the Cuban sandwich can be dressed with mayonnaise, lettuce, and sometimes tomato. Traditionalists even allow the option to have the Cuban sandwich toasted on a sandwich press called a plancha, which is similar to a panini press without the grooved surfaces. To press, or not to press? That is the final question.
Even if the temptation arises to alter the original Cuban sandwich, I would suggest not adding or modifying too much when it comes to the already scrutinized masterpiece. Alterations are usually frowned upon by traditionalists.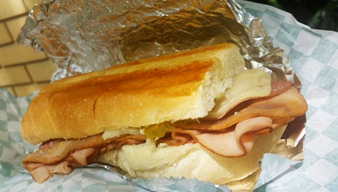 While there has been much discussion and sometimes even heated debates over how the "original Cuban sandwich" was made, we can all agree on one thing – it's dangerously delicious!