Think about where you did your grocery shopping last week. Did you go to more than three stores like 80% of Americans? I know I did. IRI recently did a study and found that "more than 80 percent of shoppers visit three or more channels to carry out their CPG shopping journey." When first reading this it surprised me, but when I actually thought about it I realized that I go to at least three grocery stores a week, if not more. To investigate this phenomenon further, I decided to research the different supermarkets in the Downtown Tampa area and see if I really need to go to three or if there is one supermarket that has it all. To carry out the investigation, I researched and mapped out the six main supermarkets, broke out the market share report for this CBSA, did a price comparison on six items, and evaluated each stores customer service, physical attributes, and overall atmosphere.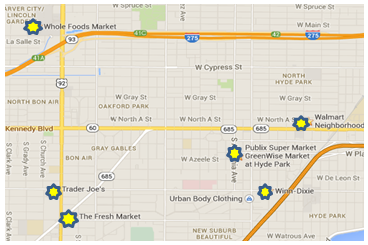 Market Share
As you can see by the map, there are five supermarkets just a few blocks from each other and the sixth is just a short drive. If anything, residents of Tampa should feel lucky to have such a great selection of stores to choose from. In such a small radius, customers can shop at: Winn-Dixie, Greenwise Publix, Walmart Neighborhood Market, The Fresh Market, Trader Joe's, and Whole Foods. (There is a traditional Publix close as well, but I chose to only visit the Greenwise.) Each store has something unique to offer and its own incentives for customers to visit.
| | | | | | |
| --- | --- | --- | --- | --- | --- |
| Trade Names | Total Stores | Current Area Stores | CBSA Sales | Sales per 1 store | Current Market Share |
| Publix | 1,080 | 110 | 2,943,518,519 | 26,759,259 | 40.34% |
| Winn-Dixie | 482 | 36 | 526,556,017 | 14,626,556 | 7.22% |
| Walmart Neighborhood Market | 346 | 12 | 201,156,069 | 16,763,005 | 2.76% |
| Whole Foods Market | 367 | 2 | 70,392,371 | 35,196,185 | 0.96% |
| The Fresh Market | 151 | 4 | 40,043,894 | 10,010,973 | 0.55% |
| Trader Joe's | 437 | 1 | 26,887,872 | 26,887,872 | 0.37% |
*CBSA_Area: TAMPA-ST. PETERSBURG-CLEARWATER, FL
The Chain Store Guide 2014 Grocery Market Share Report shows that Publix has the largest market share in Tampa with 40.3%, followed by Winn-Dixie with 7%, and Walmart with 2.8%. Trader Joe's just made its entrance into the Tampa market and has 0.4%, but it will be interesting to see in the coming years how this percentage will increase as the company expands its presence in the state of Florida.Before visiting the stores, I chose six items I would perform a price check on: one half gallon of milk, the cheapest carton of a dozen eggs, a bag of the cheapest cheddar cheese, one gala apple, a bag of sugar, and a cheap bottle of Pinot Grigio. (I tried to find the same brand and size, but at several stores I had to choose a different one.)
Winn-Dixie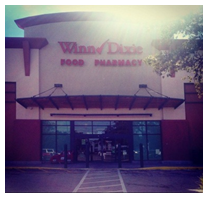 The first store I visited was Winn-Dixie. This wasn't my first time at this store and is usually one of the three that I visit each week.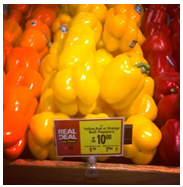 It is a large store with ample parking and always has amazing deals. The produce section is the first area customers see when walking in, followed by health foods, the bakery, meat, dairy, and the pharmacy.  The first thing  I saw when walking in was 10 for $10 peppers and when making my way around the store, I saw deals on granola bars, yogurt, meat, etc. Overall, the store layout is fairly confusing and I found myself walking back and forth trying to find sugar. The store is clean and has very nice employees that seem ready to help, but it doesn't really have any extra perks and is a pretty basic store. It does have all the essentials and amazing deals and the checkout process was fairly quick and painless. While it wasn't an over the top amazing experience, I will be back for the deals.
Milk

Eggs

Cheddar Cheese

Gala Apple

Wine

Sugar

Total

Pros

Cons

2.89

2.19

2 for $6

1.79

5.99

1.96

20.82

*Sales
*Parking
*Customer service
*Assortment of Products
*Lighting
*Layout
Greenwise Publix
There are only three Greenwise Publix stores in the United States and Tampa is lucky to have one of them. This is probably my favorite grocery store in Tampa and is where I would exclusively shop if it wasn't so expensive. It is in a great location near a high income neighborhood where many people walk from their homes. If driving, customers park in a parking garage and take an escalator into the store. The store is extremely clean and customers don't have to be shopping long before being greeted by one of the employees. The store has a large eatery with a salad, sushi and food bar; in store bakery and dessert station; salad, Panini and sandwich station; and a section inside and out where customers can eat. The store has a very simple layout and it is extremely easy to find things. While the store is on the more pricey side, it does have some great deals such as 2 for $5 cheeses and fruits. Most of the fruit is organic and the shelves are stocked with healthy and natural selections. There is a large wine and cheese section has a professional that can help if customers have any questions. The checkout process is usually very quick and the employees always offer the choice of plastic or paper bags and offer to help customers carry their purchases to their cars. As I said above, the shopping experience at this store is one of the best and Greenwise Publix is a place I will continue to shop at.
Milk

Eggs

Cheddar Cheese

Gala Apple

Wine

Sugar

Total

Pros

Cons

2.89

2.09

2 for $7

2.99

7.99

1.49

24.45

*Atmosphere
*Customer Service
*Layout
*In Store Dining
*Expensive
*Assortment of Products
Walmart Neighborhood Market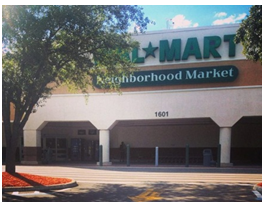 The next store I visited was Walmart Neighborhood Market. This store is conveniently located near The University of Tampa and some lower- income neighborhoods, which makes it a very popular destination. It is a large store with a huge parking lot that is never full. Depending on which entrance customers choose, the store begins in the produce section and moves to meat, dairy, home products, and HBC. While the store is large, it is very easy to navigate and determine where things are. The aisles have ample space and it never feels over crowded.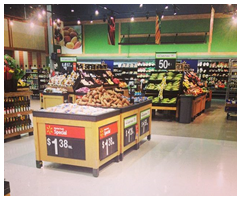 As expected, prices are very cheap and customers can find most products here. Unlike the other stores visited, there isn't a section with organic or natural products, but it does have a pharmacy. This store is also very clean and has great lighting. The downside to this store? While the workers are generally nice, there never seems to be enough and they usually don't speak to you unless you search for them. On the day I visited, there were two regular checkout lines and four self-checkout lines open. Two of the self-checkout lines were broken and only took credit cards and the other two were completely broken, roped off, and have been that way for weeks. Overall, the only reason I would ever go to this store is if all the other stores were out of a product or I needed something last minute.
Milk

Eggs

Cheddar Cheese

Gala Apple

Wine

Sugar

Total

Pros

Cons

2.70

1.08

2.50

1.27

9.47

(large bottle)

1.88

18.90

*Cheap Prices
*Assortment of products
*Checkout time
*Customer Service
The Fresh Market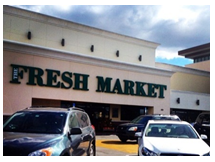 Unlike the other stores, I had never been to this Fresh Market until now, so I evaluated it as a new customer.
The store is located at a busy intersection, but has a good selection of parking. Walking in my first thought was, "Wow. This is incredible, why have I never been here?" It had darker lighting, but walking in I could automatically tell it was a high end store. There was a large produce section followed by prepared foods, meat, dairy, and wine.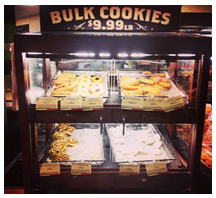 After I got over the shock of how nice it was, I began to try to find items for my price comparison. I looked, and looked, and looked, and then looked some more. I probably circled the store five times trying to find things and bumped into the same people over and over again because the store was crammed and confusing. There was a prepared foods section in the middle, which I spent more time looking at than anything because I wanted to try everything. Scattered throughout the store were cases of wine and sections for pick your own cookies, sweets, trail mix, etc. Does the picture on the left look familiar to the one from my Whole Foods Insight? It is identical, besides the fact that it is from a completely different store, making me question whose idea it was first. While the store was confusing, the employees were extremely friendly and offered to help. Overall, I did like this store and would love to go back to try some of the prepared foods, but it was very pricey and just the thought of going back and being confused over the layout gives me anxiety.
Milk

Eggs

Cheddar Cheese

Gala Apple

Wine

Sugar

Total

Pros
Cons

2.59

2.99

3.99

1.98

11.99

(large bottle, similar brand)

4.99

28.53
*Atmosphere
*High end products
*Customer Service
*Prepared Foods
*Layout
*Expensive
Trader Joe's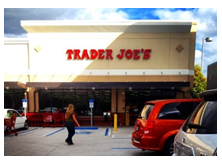 I haven't kept it a secret that I love this place, and in the past few months I have written several pieces on Trader Joe's, which you can read here and here. This is a smaller store with an even smaller parking lot. It is situated on a busy road and where there are always customers coming in and out.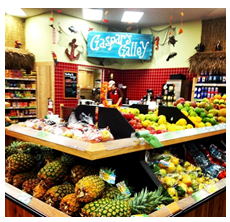 While I have never had trouble parking, I have heard it can be a nightmare.  Immediately after getting out of the car, there is usually an employee outside to greet customers and if they aren't greeted there, they will be within the first 30 seconds of stepping foot in the store. The first thing customers see when walking in is a long wall of beautiful, inexpensive flowers and then the large produce section.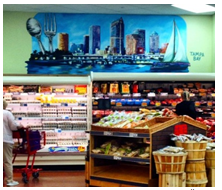 While customers won't find every fruit and vegetable they might want, the ones that are sold are fresh and inexpensive. The store may be small, but it has a layout of perfection. I have never felt crammed or overwhelmed by not being able to find something. Like I have mentioned before, everything is private label, so customers might have to actually read what something is instead of finding it by the logo. Customers can also check the stores website or request a newsletter to know what products will be in store each month.  The store is Tampa themed and has a tasting section called "Gaspers Galley" and a mural of the city and university on the wall. Overall, Trader Joe's is a great store and has mastered how to connect with customers. Since the first moment I stepped inside this store, I have had brand loyalty and even though I won't buy all my products here, it is the experience that gets me coming back.
Milk

Eggs

Cheddar Cheese

Gala Apple

Wine

Sugar

Total

Pros

Cons

2.39

1.99

3.49

0.69

2.99

3.49

15.04

*Customer service
*Layout
*Inexpensive
*Everything is private label
*Parking
*Variety of Products
Whole Foods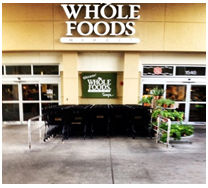 I recently wrote an insight on a Whole Foods opening I attended in Clearwater.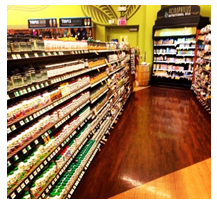 As I stated in the previous insight, I am not the biggest fan of the company, but I will say that in the past few months, it has proved that it is still innovative and has come up with new ideas and concepts which it is slowly implementing in its stores. The Whole Foods in Tampa is probably in one of the busiest, most claustrophobic shopping centers; as a result, parking is a nightmare. This was probably the first time, in three or four years, that I had been in this Whole Foods, so I was shopping as a fairly new customer. Unlike the Clearwater location, this Whole Foods had a huge produce section, in store eating section, large wine bar, and huge HBC section. There were employees everywhere and they all smiled at me offering to help. The store was large and I was a little confused as to where things were, but for the most part it was pretty easy to find things.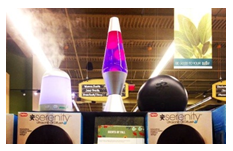 While the store had a ton of products, it didn't feel cramped and I can understand why customers choose it as a lunch destination. The section I spent the most time in was HBC. They probably have any vitamin, incense, health remedy, etc. a customer could want and even had a lava lamp. Overall, it is a very nice store with excellent customer service and a large selection of foods, but will I be back? Maybe, but probably not. It isn't the prices that will keep me away, but I don't feel brand loyalty and the experience alone wasn't enough to bring me back.
Milk

Eggs

Cheddar Cheese

Gala Apple

Wine

Sugar

Total

Pros
Cons

2.69

3.99

4.69

1.99

14.99 (larger bottle)

3.99

32.34

*Layout
*Assortment of products
*Customer service
*Wine bar and in store dining
*Parking
*Expensive
Price Comparison Results
What was interesting is that there wasn't one store that was significantly cheaper than the others. (I ended up not comparing the wines because each type ended up being a different size or brand.)  Walmart and Trader Joe's tied with having two of the cheapest items and Whole Foods was the most expensive. When computing the total price, I didn't add the wine and only added one of the 2 for $7 and $6 cheeses from Publix and Winn-Dixie. In the end, Walmart had the cheapest total price and Whole Foods had the highest.
| | | | | | | |
| --- | --- | --- | --- | --- | --- | --- |
|   | Publix | Winn-Dixie | Walmart | Whole Foods | Fresh Market | Trader Joe's |
|   | | | | | | |
| Wine | 7.99 | 5.99 | 9.47 | 14.99 | 11.99 | 2.99 |
| Milk | 2.89 | 2.89 | 2.70 | 2.69 | 2.59 | 2.39 |
| Eggs | 2.09 | 2.19 | 1.08 | 3.99 | 2.99 | 1.99 |
| Cheddar Cheese | 2 for 7 | 2 for 6 | 2.50 | 4.69 | 3.99 | 3.49 |
| Apples | 2.99 | 1.79 | 1.27 | 1.99 | 1.98 | 0.69 |
| Sugar | 1.49 | 1.96 | 1.88 | 3.99 | 4.99 | 3.49 |
| Total | 12.96 | 11.83 | 9.43 | 17.35 | 16.55 | 12.05 |
Implications
If anything is apparent from this insight, it is the importance of customer experience and brand loyalty. Some of these stores were obviously nicer than the others, some cheaper than the others, but it is the ones that have a good mix of both that will continue to gain customers. The layout had a huge effect on my opinion of the store and is something companies should pay very close attention to. The next most important thing was customer service. Customers can tell when employees are happy. This doesn't mean that they are just willing to help, but it is apparent when the person likes their job and the company they work for. Overall, Tampa has an excellent selection of grocery stores to choose from and there honestly isn't one that trumps the others. The customers that stand behind Whole Foods do so because they feel a connection and loyalty. It is the same with most of the other stores as well. With online shopping becoming more popular, supermarkets have to work harder than ever to pull customers in. In the end, the companies that thrive will be the ones that have a clear concept of what their brand is, who they are marketing to, and how to make sure each shopping experience is easy, unique, and worth a customer's time and money.