The Kroger Co.
Address:
1014 Vine St. Ste 1000
Cincinnati, OH 45202-1100
Telephone:
513-762-4000
Website:
www.Kroger.com
Total Current Stores:
3,427
Year Founded:
1883
Total Revenue:
$98.4 billion
Senior Executives:
David Dillon- Chairman
W. Rodney McMullen- CEO
Ten Year Sales History*
Sales in billions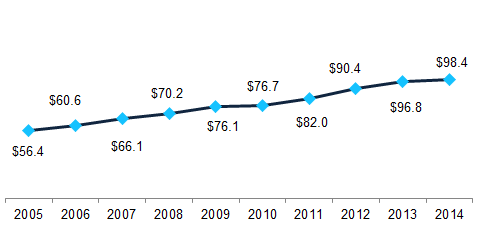 *Source: Chain Store Guide Supermarket, Grocery, & Convenience Store Chains Database.
As the holiday season approaches, it is the perfect time to see a company's morals and what is really important to them. What are their holiday hours? Are they giving back? How are the employees treated? These questions will all be answered within the next month and it will be extremely easy to see if a company's actions match its words.  If actions do speak louder than words, then Kroger's actions are even louder and more eloquent than the words listed on its website. Honesty, Integrity, Respect, Diversity, Safety, and Inclusion; these are Kroger's six core values that are not just nominally laid out on its website, but are easily seen. As Thanksgiving approaches it also means Black Friday is close behind, and while Kroger will be open on both days, it does not make it a heartless company. The difference between this company and many others is that while it exists to make money, it also goes above and beyond to spend and donate it for a good cause. While I touched on some of the company's work in the Recession Buster, it has done much more than I could ever list in a few paragraphs.
Recently, its Twitter boasts, "We are donating 30 million meals this Holiday season to local food banks!" As a past Kroger's shopper (only past because I moved) I can attest to the fact that the store is always doing something for the community. During the holidays, I can remember the store always having donation tables for food pantries and Christmas gifts for underprivileged families. Outside, there was someone ringing a bell, collecting money for a charity, and giving away candy canes. It was a place that you could go to for more than just shopping, but for giving. To get, you have to give, and Kroger has been giving back since it was founded.