In the past few months Whole Foods has received plenty of bad press. Now that more well-known supermarkets such as Kroger and Publix are carrying organic foods for lower prices, consumers are beginning to rethink where they shop. As a result, Whole Foods has introduced a plethora of new incentives for customers. Some examples include the new loyalty program, wine club, added investment in its IT infrastructure, a new brewpub concept, adopting Apple Pay, updating its mobile app, and becoming accessible through Instacart. The company has also reported that they have lowered prices on over 400 produce items.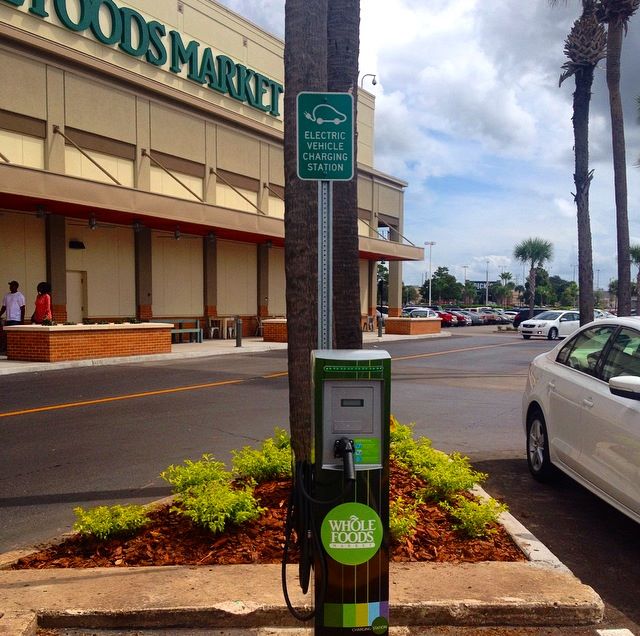 On September 24 I had the opportunity to attend a Whole Foods opening in Clearwater, Florida. Honestly, driving over I was a bit biased after reading negative reviews, and personally, I tend to agree that the store is overpriced and customers can find the same products for cheaper elsewhere. Putting all of this aside, I attended the opening hoping to be proven wrong and see what some people are so obsessed about. Upon walking in I was surprised when I saw electric car charging spots. I rarely see stores with charging stations, so I was immediately impressed and thought it showed Whole Foods brand and values even from the parking lot.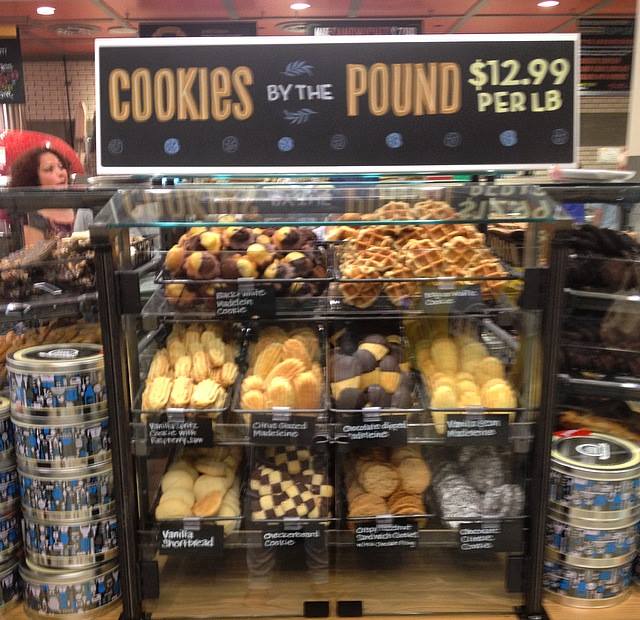 The new Clearwater store is 38,000 sq.-ft., and every inch of it is utilized. I decided to eat first and was impressed with the amount of options. There were three buffets with salad, American, Indian, Italian, Chinese, flatbread, meats, vegetables, soups, quinoa salad, seafood, etc.- definitely enough variety to fill anyone no matter how picky. Outside the buffets there were stations such as: pizza, sushi, a sandwich and make-your-own Panini station, a make-your-own gyro, homemade foods, prepared meats, bakery, café, and a cart with doughnuts made right in front of you.  The dessert section looked absolutely delicious as well with an assortment of cakes, cookies, pastries, etc. There were also stations were you could pick and choose desserts and pay by the pound. The workers behind the counters were extremely attentive and were offering samples throughout all of the sections. They also have what seemed to be any and every health juice/tea/drink you could probably ever want. If nothing else, this store is great for hungry customers.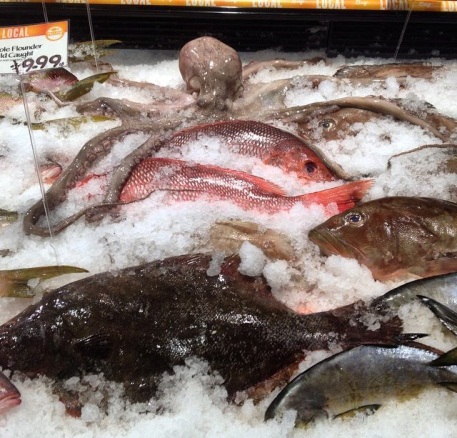 Next to the in-house dining was the wine and beer section.  This store had a respectably sized wine selection with an assortment of domestic wines, but not a great variety of international wines. After investigating, I noticed that the wine was more expensive. For example, when comparing one particular brand of Malbec, at this store it was $14, at Publix Greenwise it is $11, and at Walmart it is $10 and it usually comes with a dollar off coupon. The beer section had an emphasis on craft beer and seemed almost solely dedicated to craft and domestics. Customers had the option to pick and choose from select beers to make their own 6-pack. There were international beers and cider, but it was evident what this sections priority was. There was also a wine bar where customers were having a glass of wine and some cheese. I thought this idea was intriguing because while the bar only had 5 or 6 chairs, and wouldn't be a destination for a glass of wine, it could be nice for customers if they want a break from shopping, or if they want to sample a new wine before buying it. Connected to the wine bar was an impressive assortment of cheese. If you read the Trader Joe's Snapshot, you'll know I am a huge advocate of cheese. Customers could probably find any type of cheese they want here, obviously for an expensive price, but still it might be worth it if wanting to try some unique artesian varieties.
Walking through the aisles you could find all of the regular bulk items, but the more I looked, the more I began to notice the brand 365. After a little investigating I found out that this is one of Whole Foods private label brands, which makes sense because they are trying to lower costs, so what better way than to try Aldi's and Trader Joe's method. The isles were filled with organic and natural granola, cereal, soups, cleaning supplies, and even charcoal. Something caught my eye in every aisle because of the variety of health and natural choices. There was a healthier version of everything, and a worker ready to answer any questions you had about it.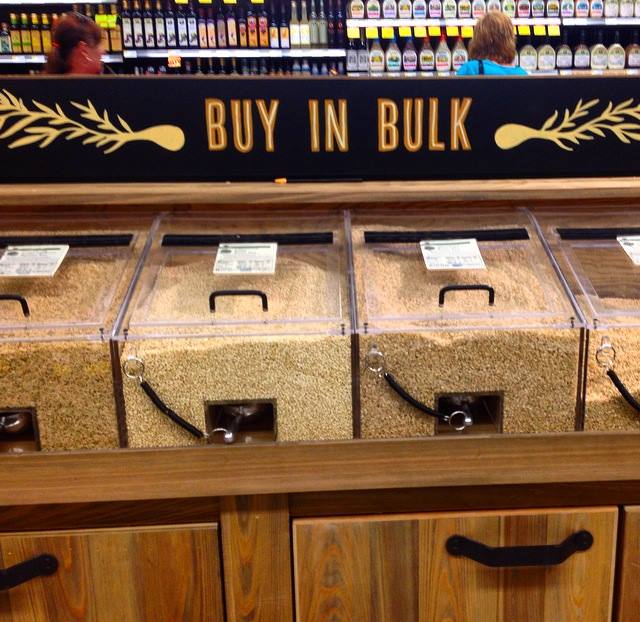 On the opposite end of the store are the grains, nuts, and make your own trail mix. For customers that like grain, Whole Foods would be the place to go. There is a choose-your-own grain section, many of which I had never heard of, and they had prepackaged types of quinoa, rice, etc. This was unique because you genuinely won't see many of these products in other stores.
The next departments I visited were the meat, poultry, and seafood. While I am not a big meat eater, I was with a co-worker that was and they were impressed with the selection. There were unique meats such as bison, veal, and rabbit, along with the usual beef, turkey, lamb, pork, and chicken. All of the meat has no added hormones, antibiotics, and meets animal welfare standards. The men behind the counter were ready to help customers choose what type of meat they wanted, how to cook it, and recipe ideas. The seafood section also has various types of fish and a good selection of precut and pre-seasoned, but also whole fish that customers could buy.
The last section of the store, or first depending on how you enter, is produce. I have to admit I was a little surprised about how little the produce section was. Maybe my expectations were too high, but I was expecting a large assortment of fruits and vegetables at varied prices. The shelves boasted fruits and vegetables from Holland, and there was an abundance of each fruit, but not much variety. All of the fruit was pretty expensive, i.e. a yellow pepper was around $5. My favorite feature of this department was the containers of precut and mixed vegetables and peppers. This would be great to buy as snacks or for fajitas.  When making our way to the checkout we passed through a section of homemade soaps, bath salts, and lotions, which all smelled amazing.
Overall the store was well done and had an impressive selection healthy and organic products, but will I be returning? Probably not. I do see the appeal of the store and Whole Foods kept to its brand and displayed its values and philosophy in every aspect. There is no question that Whole Foods is a great natural organic retailer, and it is a well-constructed store, but I think the company is going to have to keep lowering prices to keep customers coming back.  According to CSG's Supermarket & Grocery Chains Database, Whole Foods makes $926 per square foot and in 2013 the company was ranked 11th in sales, with $12.9 billion, and 16th in units with 367. It will be interesting in the coming months to see if it stays on track with its aggressive growth strategy, and what other promotions they come up with to keep customers returning.