Ulta Salon, Cosmetics & Fragrance, INC.
Address:
1000 Remington Blvd Suite 120
Bolingbrook, IL 60440-4708
Telephone:
630-410-4800
Website:
www.Ulta.com
Total Current Stores:
675
Trading Areas:
AL, AZ, AR, CA, CO, CT, DE, FL, GA, ID, IL, IN, IA, KS, KY, LA, ME, MD, MA, MI, MN, MI, MO, MT, NE, NV, NH, NJ, NM, NY, NC, ND, OH, OK, OR, PA, RI, SC, SD, TN, TX, UT, VA, WV, WI
Year Founded:
1990
Total Revenue:
$2.67 billion
Senior Executives:
Mary Dillon: CEO
Scott Settersten: CFO
Seven-Year Sales History*
Sales in millions. All years fiscal year-end.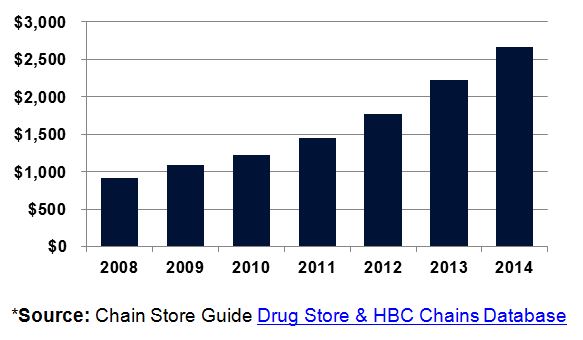 Ulta's success over the past 8 years hasn't just occurred by chance.  From the beginning, Ulta chose to focus on three key aspects, five competitive strengths, and a five point growth strategy. Its three key aspects revolve around the company being a one stop shop, focusing on its value proposition by continually having promotions, coupons, events, gifts, and a loyalty program with 13 million members, and sticking to its off mall location plan. Ulta has proven to be very good at knowing its strengths and optimizing them to grow its stores, sales, and customers. These competitive strengths include having a differentiated merchandising strategy, creating a unique customer experience, having a loyal active customer base, strong vendor relationships, and an experienced management team. Since going public in 2008, Ulta has been upfront and straightforward with its five point strategy plan and has grown from 126 stores at the beginning of 2008 to 675 stores at the end of 2013. This plan is to (1) grow stores to 1,200, (2) expand products, brands, and services, (3) enhance the loyalty program, (4) broaden marketing reach, and (5) expand its digital business. By combining all these efforts into one strategic plan the company has grown to be the largest beauty retailer in the United States and isn't slowing down anytime soon.