Later this month, Chain Store Guide will be summarizing its annual supermarket and convenience store industry research in our executive summary and statistical analysis. The finalized report will be released in March and be packed with tons of in-depth information including annual rankings with historical data, data trend reporting, and merger/acquisition analysis. 2013 was another year of growth for the supermarket industry, as well as an active year of acquisition activity. Food retailers bought and sold stores, grew organically, and introduced new retailing concepts to the marketplace.  Online food retailing grew as well, though it remains to be seen the kind of immediate impact it will have on mainstream supermarket shoppers. Based on our research findings, however, one thing is for certain: the retailers that adapt to changing consumer demands will be the ones continuing to grow in 2014.
Although lead by a small number of chains with large store counts, the U.S. grocery market is relatively fragmented among a group of distinct segments.  Grocery retailers in Chain Store Guide's databases generated $868.9 billion in grocery revenue in 2013, a 4.4% increase over 2012.
Percentage of U.S. Retail Grocery Sales*
Based on Retail Formats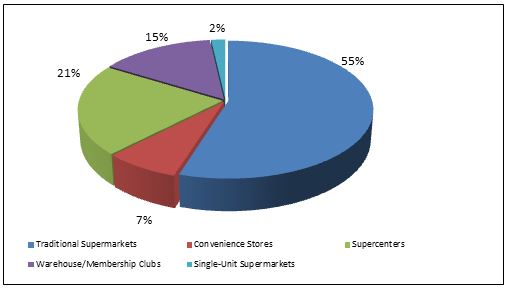 *Data collected from Chain Store Guide's 2013 Databases includes grocery sales from the five selected formats only. Companies may operate more than one format. Single-Unit Supermarkets are part of a separate individual database.
Grocery sales continue to be a large component of revenue at membership warehouses, and the segment is one of the fastest growing food retailers in the country. Led by Costco and Sam's Club, grocery sales at membership clubs are up 36% since 2009: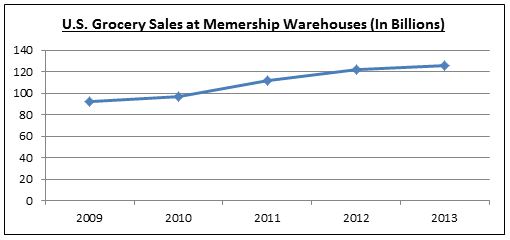 Source: 2014 Chain Store Guide Supermarket, Grocery, and Convenience Store Chains Database