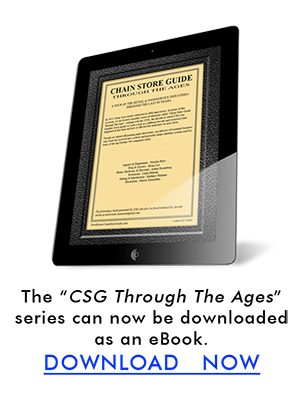 In 2013, Chain Store Guide celebrated its 80th anniversary.  In honor of that occasion, we hosted a monthly series of editorials called "Chain Store Guide Through The Ages", starting with the 1930s.  Each month we took a look at a different decade and reviewed what was happening in that time and how it affected the industries we now serve.
We have now come full circle.  This month, the CSG Editors have tapped into our rich historical data & expertise and put together a series of projections and expectations for the coming decade.
Chain Store Guide In The Next Decade
The country is on a sluggish rebound from the "Great Recession", one of the worst economic periods in U.S. history. For many Americans, the past seven years have been extremely tumultuous, but the economy is finally beginning to show a few signs of improvement in key areas and there seems to be a light at the end of the tunnel, it's just hard to say how long that tunnel appears to be.
While the housing market, the key component to the economic meltdown, has been and continues to be a drag on recovery there is some momentum building in other areas. The unemployment rate has dropped to 7 percent and is forecasted to continue to decline. Consumer spending has started growing at a faster rate. Many businesses that have cut back on expenses are now poised to ease up and start spending.
That doesn't necessarily mean the good times are right around the corner. It still could take many years to return to pre-recession levels. Companies need to redefine the way they do business, especially in the now global environment.
APPAREL INDUSTRY
It's a given that people will continue to wear and buy apparel and footwear, but the way they buy it will change. Many retailers will focus more on their e-commerce business, and will maintain a lower inventory at its brick and mortar locations. Manufacturers, who once used outlet stores to sell last season's merchandise, will continue to see higher growth using the internet.
More consumers will make purchases online, and many will even create their own unique products. The footwear industry introduced the create-your-own concept, but custom-made apparel and accessories are sure to be a hit as well. As customers are using new devices, top retailers will adapt to their shopping habits creating new apps and services for the technology driven consumers.
DISCOUNT INDUSTRY
After looking back on eight decades of retail history, it is a good time to take a look at the road ahead. It can easily be said that the two most dominant and influential retailers of the 21st century are Walmart and Amazon. For virtually their entire respective existences, these companies have sent shockwaves across first American and then international retailing. The markets they grew to compete in were virtually limitless.
Walmart has brought about the demise of many independent retailers as well as a number of once leading chains such as Woolworth and nearly the once powerful Kmart. Amazon has almost singlehandedly brought about the phenomenon termed 'showrooming', which has sent retail executives in companies such as Target and Best Buy reeling and humbled even Walmart. Two decades ago Walmart improbably entered the grocery market and quickly dominated. Now Amazon is slowly developing its own path in this arena.
It is now clear that the efficiencies of Internet retailing have forced traditional brick and mortars to rethink their platforms, even after adapting to the lure of Internet marketing. Thus several national chains are beefing up their already considerable Internet presence, while economizing by shrinking their brick and mortar prototypes. Best Buy is a leading retailer employing these tactics. Recent very positive quarterly financials indicate they are on the right track.
Staples, long the leading brick and mortar in terms of online sales (yes, even ahead of Walmart), opened a new prototype which significantly cuts down on real estate and relies on Internet kiosks to offer a greatly expanding array of office related products, available for rapid delivery direct to the office. Prior to their merger, OfficeMax and Office Depot were opening similar new prototypes to that of Staples. The new Office Depot will continue on that path.
Retail real estate interests must brace for the onslaught of shrinking prototypes in the coming years. Walmart's latest investor forums have focused on its preoccupation on growing smaller prototypes, namely the Walmart Neighborhood Market concept and Walmart Express, Walmart's answer to the most enviable growth expansion of dollar stores. CityTarget is Target's smaller prototypes which focuses efficiencies on major urban markets.
DRUG INDUSTRY
Consolidation has been the one constant theme in the retail drug industry. The 'Big Three' chains dominate prescription market share and pharmacy locations and will continue to do so in the future. Rite Aid has made a strong comeback and has solidified itself as the number three pharmacy operator in the country. However, discounter Walmart and grocer Kroger are not far behind and will likely look to the pharmacy department as growth areas in their respective businesses. Other trends that will shape the face of the industry will center on the Affordable Care Act and how it affects individuals' payments for prescription medicines. While it is possible the number of total consumers with health care coverage will increase, the bottom line cost to their wallets for pharmaceuticals remains to be seen. In addition, individuals have been slow to sign up for the coverage, and the government website supporting the Affordable Care Act has been plagued with technical issues. The controversial law is opposed by many, and the first quarter of this year will be critical for the Obama administration's credibility on the health care front.
HOME & HARDWARE INDUSTRY
After the economically staggering industry conditions brought on by the subprime crisis followed by the recession, the industry has recently enjoyed modest prosperity and even growth. Recent Home Depot financial reports have been most encouraging and required focus on the company's successful initiatives after returning to its roots, focusing on strong customer service to the do it yourselfer. Even Lowe's seems to have recovered from a period of merchandising guffaws and public relations flops, including poorly executed store closings and exits from previously esteemed markets. Menards continues on its unique path, being one of the few major retail chains to actually grow its store footprint in the industry.
Throughout the industry's economic sufferings in recent years, the Farm & Home segment has more than held its own. In many instances resident companies have actually grown considerably. This has been achieved through retailers knowing their customers actual needs and wants and adapting product mixes, even radically, to meet them.
The best example of growth here, and perhaps throughout our industry, is that of Tractor Supply. Since 2004, the company's weakest year for growth saw an increase of 75 locations. Twice in that time the company added a high of 91 stores for those respective years.
As economic signs continue to offer hope, despite occasional mixed indicators, Farm & Home retailers should continue to prosper, especially Tractor Supply. As to the rest of the industry, though many recent economic building indicators have been fairly positive we still are hit by negatives as well. While regional Menards seems to consistently experiment and expand annually, national powers The Home Depot and Lowe's have been limiting openings in recent years to the single digits or barely above. Until building growth is strong and consistent for some time, these stalwarts are not likely to significantly increase expansion plans. As the industry leaders go, most of the industry follows.
RESTAURANT INDUSTRY
The past 80 years have brought a paradigm shift in the way the foodservice world operates, moving from single-unit mom-and-pop diners and coffee shops serving American food to the current climate of chains comprising thousands of locations worldwide serving food from around the world. Prohibition was just ending in the U.S. when Chain Store Guide began in 1933, and today's restaurants and bars are stocked with hundreds, if not thousands, of varieties of beer, wine, and spirits. The pencil, pad, and cash register have been replaced by POS systems, kiosks, and tabletop devices.
What changes are on tap for this volatile market? At a national level, immigration reform and minimum-wage issues will continue to dominate the conversation, along with ongoing concerns about the Affordable Care Act. Nation's Restaurant News recently conducted an online survey of operators and reported that sluggish consumer spending, higher commodity costs, and increased government regulation are the industry's biggest challenges while health-care reform and minimum-wage increases were the issues most likely to affect those who responded.
Technology will continue to evolve, allowing managers to focus on customer interactions instead of the time-consuming bookkeeping and clerical functions endemic to running a business. Mergers and acquisitions are likely to continue at all levels – in just the past month, Roark Capital acquired CKE Restaurants (dba Carl's Jr. and Hardee's) and Centre Partners acquired Captain D's. The nation's preeminent foodservice distributor, Sysco Corporation, has announced plans to acquire its largest competitor, US Foods, and The Chefs' Warehouse acquired two smaller distributors this past year. As consumer confidence continues to build, venture capitalists, private-equity funds, and savvy entrepreneurs will identify and seek to acquire other successful or promising businesses.
This is also the time of year when chefs are asked to predict what food trends they see developing, and the recently released National Restaurant Association's 2014 Culinary Forecast identifies the following top five trends: 1) Locally sourced meats and seafood, 2) Locally grown produce, 3) Environmental sustainability, 4) Healthful kids' meals, 5) Gluten-free cuisine. Ancient grains, new cuts of meat, ethnic-inspired breakfast foods, and nose-to-tail/root-to-stalk cooking also made the top 20 list.
Despite all the changes in the 'how' and 'where' of the restaurant business, at its core the foodservice industry has changed little – it's still about people who want to serve their customers good food, regardless of its origins or how it's prepared. This is one paradigm that will not change.
SUPERMARKET / GROCERY INDUSTRY
The supermarket industry landscape has changed drastically over the past century. Looking forward, a number of distinct trends will continue to shape the way retail food is sold. Walmart will continue to be the dominant food retailing company, and will likely increase its market share. In addition to its supercenter format conversions and store openings, plans call for hundreds of Neighborhood Market store openings. This format is much smaller than a typical Walmart location and focuses strictly on food, competing directly with traditional supermarket chains. Growth from traditional chains will continue to focus on natural and organic retailers, with Whole Foods, Sprouts Farmers Markets and The Fresh Market leading. While not on the forefront yet, online grocery retailing could become more prevalent in the near future. Ahold's Peapod subsidiary has been successful in this venue for years in the Northeast, and it is growing rapidly. Amazon also began to expand its fresh grocery delivery service in 2013, although only to a few select large markets.
Don't forget to read our Company Snapshot follow-up stories that will spotlight a company from each industry in this decade. You can read them later this month on our NewsRoom page, or by signing up to our email newsletters.
Chain Store Guide
1-800-927-9292
Written By:
Apparel & Department – Natasha Perry
Drug & Grocery – Brian List
Home, Hardware, & Discount – Arthur Rosenberg
Restaurant – Linda Helman
Editing & Introduction – Matthew Werhner
Read all of our Chain Store Guide Through The Ages series: