If you're a long-time subscriber to Chain Store Guide email, then you may remember an insight that I wrote more than two years ago titled Food on the Run about the emerging business of mobile food, aka food trucks. At the time, I asked: Is it a fad that will fade or a trend that will continue to impact the industry into the future?
Well, it's pretty clear that it's not a fad. Cities all over the country, from Raleigh to Baltimore to Chicago to Seattle are sponsoring food truck rallies, gatherings, and festivals. Food Network's The Great Food Truck Race follows teams of wannabe food truck operators as they cook their way from state to state. Cooking Channel offers Eat St., with the host sampling street food from trucks in cities large and small. In August 2013, the World's Largest Food Truck Rally took place in Tampa, with 99 trucks braving the Florida summer heat. The previous record of 67 trucks at one rally had just been set in Miami earlier in the year. Attendees were tempted with choices ranging from burgers and BBQ to crepes and cupcakes. Hot dogs and cheesesteaks battled with pupusas for diner dollars. Traditional fish and chips could be bought, as could lobster rolls. Alligator, antelope, and kangaroo meat made it on to some menus. Many trucks reported running out of food and/or propane long before the rally was officially over, with more than 20,000 people lining up to sample the wares.
I decided to try to get a better understanding of this very unique business model, so I sat down with my new friend, Hung Nguyen, owner/operator of South Pacific Grill in Tampa, FL. He told me about his years of working in corporate America, succeeding in his job but not deriving the personal satisfaction he craved. After long hours of soul searching, he eventually decided to follow his passion and go back into the business he learned as a younger man working alongside his father in foodservice.
His initial plan was to purchase a restaurant location but found them out of his financial reach. He looked at trucks that were available but once again decided that they weren't financially feasible. He then turned to a manufacturer who built him a trailer made to his specifications. While the builder installed basic ventilation and plumbing, Hung installed the heavy equipment himself, including a refrigerator/freezer, deep fryers, a gas grill, and a gas range with a flattop grill, gas burners, and oven. There are also four sinks installed (dish washing, dish rinsing, sanitizing, and hand washing) as well as cabinets and work space. The outside of his trailer was designed by Hung and is candy-apple red with a honu petroglyph, a symbol of the Hawaiian green sea turtle that represents good luck and endurance. Embedded in the honu shell are the symbols for yin and yang, which he believes reflects his Asian background. That image is what initially caught my eye several months ago and led to my first visit to SPG.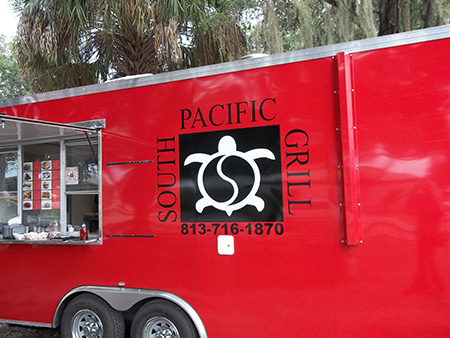 Hung also spent weeks developing and testing his menu of Asian- and Hawaiian-inspired cuisine, using recipes handed down from family and friends as well as modifying other dishes to meet his tastes. He has no formal culinary training, but his huli huli chicken and kalua pork with citrus-ginger slaw harken back to his years of living in Hawaii, while the teriyaki burger, eggrolls, and Kalbi beef ribs speak to his Asian heritage. Banana spring rolls served with a coconut cream dipping sauce are unlike anything I've ever tasted and are a sweet way to end a meal. His new cheesesteak egg rolls are amazing and a great hybrid idea combining an American staple with an Eastern twist. Traditional Vietnamese pho is in the testing stage for possible addition to the menu. In addition to sandwiches and egg rolls, he serves the traditional Hawaiian plate lunch, typically one protein and two starches (usually white rice and macaroni salad).
We discussed the challenges he deals with each day. The biggest obstacle he faces is marketing his business and building his customer base to the point where his operation is sustainable for the long term. He rents a space and parks his trailer on a corner on a busy road in town, but without permanent signage, he doesn't get a lot of business from passing motorists. In order to build name recognition and get more sales, he travels to various food truck rallies across the Tampa/St. Petersburg area. However, the rallies are typically held far from what he considers his home base and don't contribute to building a local clientele. Rallies also usually organized by promotion companies that work with business and community sponsors, so getting on the event list is sometimes problematic because of the high demand. Hung has also been invited to park his trailer at various business in the community at lunch time, including the local sheriff's district office. He's had several very favorable articles written about the business in local newspapers which have helped raise his profile, and he's strongly dependent on word-of-mouth advertising and his Facebook postings. He takes on occasional catering jobs when they come up, but his goal is to have enough customers visit his street corner location that he doesn't have to travel.
Hung must also overcome the aversion held by many people about buying food off street corners and parking lots. The community in which he has chosen to do business has dozens of traditional restaurants that are always crowded, but the overwhelming majority of them are locations for national and regional chains. Like Hung, independent restaurateurs face the obstacle of lack of name recognition. For a food truck operator, the problem is two-fold: no name recognition and reluctance to venture a new experience.
Like brick-and-mortar restaurants, he's subject to local and state licensing and regulations. In the five months he's been open for business, he's been inspected three times. Because he's mobile, he's subject to inspection in more than one jurisdiction. He's a self-contained foodservice operator, meaning that all food must be prepped on-site, not in a home kitchen or commissary. The limited size of the work space onboard means he and his assistant must do a carefully choreographed dance to get the work done in an efficient manner.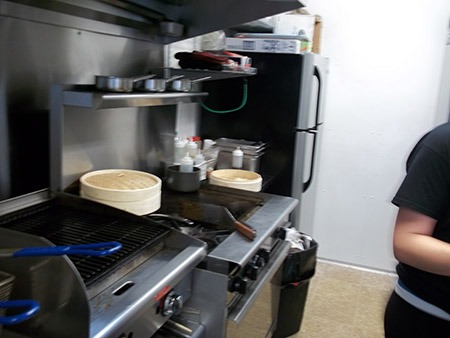 He works long hours, averaging 16 hours a day, six days a week. The truck's hours are 11am – 7pm Tuesday through Saturday, but mornings and evenings are spent shopping and prepping. He cautions that no one should consider getting into the business as a way to get rich. The images on TV of trucks pulling into town and being mobbed by customers are depictions of staged events, not reality. As he noted, kids at McDonald's are likely making more per hour than he is. But he smiled when he said it, because he truly loves to bring great food to his customers.
The last sentence sums up the rewards that Hung Nguyen is deriving from this venture. He's spending his day doing something that he's passionate about, and his best payment is the smile he sees when a new customer tastes his food for the first time.