Address:
2501 118th Ave N
ST. PETERSBURG, FL 33716-1920
Phone:
727 872-1000
Year Founded:
1982
Total Stores:
4- HSN Outlets
Total Annual Sales:
$3,266,700,000
Senior Executives:
Mindy Grossman- CEO
Judy Schmeling- COO, CFO
A new concept in retailing, HSN began operations in 1982 as the Home Shopping Club on a Florida cable channel. This was in the early days of cable television. The company expanded into the first national shopping network three years later, and changed its name to the Home Shopping Network. Its primary competitor QVC began operations during the following year.
The company scaled its corporate moniker down to its initials as it diversified operations between television networks, the Internet and its outlet stores.  The HSN brand serves the company well as it seeks a strong platform in the burgeoning market of social media.
Merchandising under current management has sought to differentiate the retailer from all types of competition, including other shopping television channels, brick and mortar retailers and Internet retail sites.  Here HSN continues to seek exclusives on products and celebrity presentations.  Thus a line of ladies fashion apparel offered by Serena Williams has proven one of the company's most popular exclusives and television draws.   Similarly, celebrity chefs have proven popular, offering branded cookware and food preparation products.  Wolfgang Puck has become a fixture and a most popular HSN attraction.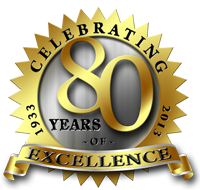 This year, Chain Store Guide celebrates its 80th anniversary. In honor of this occasion, we are hosting a monthly series of editorials called "Chain Store Guide Through The Ages", starting with the 1930s. We will take a look at what was happening in that time and how it affected the industries we now serve. Our Company Snapshots will examine companies from that period and see where they are today.