Recently I had the privilege of attending the grand re-opening of a newly remodeled Sam's Club in Lakeland, FL – one of two locations in this central Florida city.  It first opened its doors 20 years ago in 1993, and I have many memories walking its wide aisles with my mother, a small business owner. Despite its freshened interior, which includes shiny new finished flooring and new check-out registers, the associates I talked to while at the store are what left the greatest impression on me. Mostly, this impression can be summed up into one word: passion.
Matt Croasmun began his career with the company as a sampler at a Sam's club far from central Florida. Now, the energetic, outspoken employee is the director of the Lakeland store.  Matt and two of his valued associates sat down with me to discuss their store – what it provides for the community, its members, and their passion for their work. I spoke with Cindy, a 20 year company veteran who is now the audit and inventory control lead at the store. She followed in her mother's footsteps, also a 20+ year Sam's Club associate. Cindy spoke about her time in the beginning as an outside sales representative, drumming up memberships of small businesses, and of how much she loves her job. Helping shoppers find products at the lowest prices and offering exceptional customer service are two things that make Cindy's job worthwhile. I also talked with Susanne, the club's invoice clerk that handles up to 15 truck deliveries weekly and schedules appointments with vendors. She talked about the 10-foot rule, which applies to customer's proximity to associates on the sales floor.  When a customer is within 10 feet of an associate, the associate is encouraged to ask if the customer needs assistance. The program helps to facilitate one-on-one interaction with shoppers and increase customer attention.
The Grand Re-Opening with the Lakeland Chamber of Commerce: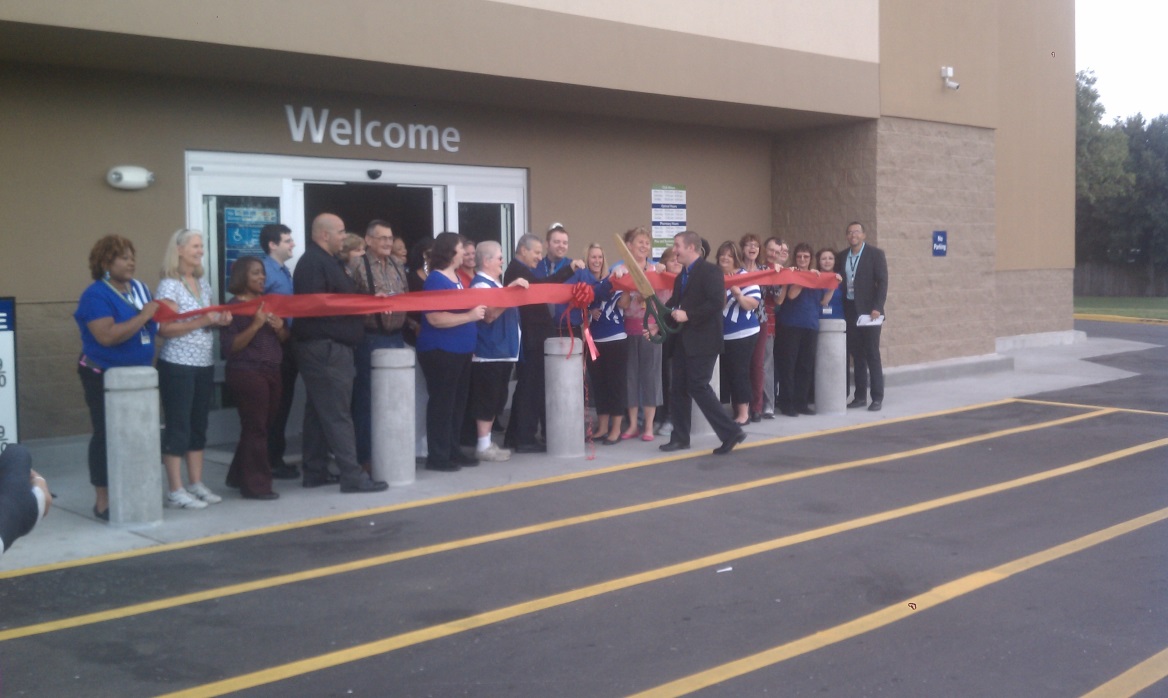 I also was able to speak with Nick, the pharmacy manager. Nick started his career with Sam's at the Lakeland store as a teenager retrieving shopping carts from outside. After working his way through college and then pharmacy school, Nick returned to the Lakeland Sam's Club. He emphasized one-on-one customer interaction for his pharmacy users as a key component to the business, and knows many shoppers on a first-name basis.
Sam's Club caters primarily to small business operations. Owned by Walmart, the stores average 134,000 square feet and offer bulk and large serve items at discounted prices. A yearly paid membership is required to shop, though the savings generated from its low prices should more than cover the annual dues.
Unsurprisingly, Croasmun mentioned Publix as his primary competition. With 24 locations in the Lakeland-Winter Haven metro area, Publix is the unquestioned grocery market share leader.  However, Sam's also faces competition from Costco if they are in its immediate area (Costco currently does not operate in Lakeland) and other discount retailers. Recently, Save-a-Lot opened a new location a few miles from the Lakeland Sam's in an old Lifestyle Fitness center, while GFS Marketplace constructed a new store down the road on U.S. 98 N – the same highway all three stores share.
LAKELAND-WINTER HAVEN, FL*
Metro CBSA
| | | |
| --- | --- | --- |
| Company/Trade Names | Area Stores | Current Area Grocery Market Share |
| Publix Super Market | 24 | 40.70% |
| Walmart Supercenter | 10 | 29.70% |
| Winn-Dixie; Winn-Dixie Marketplace | 10 | 9.60% |
| Sam's Club | 2 | 7.40% |
| Save-A-Lot | 7 | 4.90% |
| Dollar General; Dollar General Market | 30 | 2.20% |
| Family Dollar | 25 | 1.30% |
| Aldi | 3 | 1.30% |
| GFS Marketplace | 1 | 0.60% |
| Target (PFresh) | 3 | 0.60% |
| Other Operations | 21 | 1.60% |
*Source: Chain Store Guide 2013 Grocery Industry Market Share Report
SAM'S CLUB –FIVE YEAR SALES HISTORY*
Sales in billions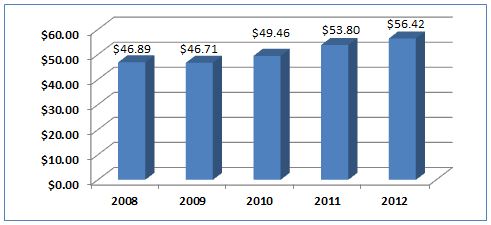 *Source: Walmart public records
The customer mix at the Lakeland Sam's is approximately 60% small business, with the remaining 40% going to everyday local shoppers. As far as the yearly membership fees, customers rarely balk at the cost according to Croasmun. Inside, the store features traditional dairy, frozen, dry grocery and produce departments while also offering tire & battery service, a large photo section, optical and eye exams, fresh meat and rotisserie departments, an expansive apparel area, and an expanded beer/wine section. Walking the store, the Sam's had an organized, clean feel with plenty of wide aisles and open spaces to navigate. Twenty new registers are lined up along the front end, replacing the previous sixteen. New self-checkout registers are now offered.
The new self-checkout lanes in the Lakeland store: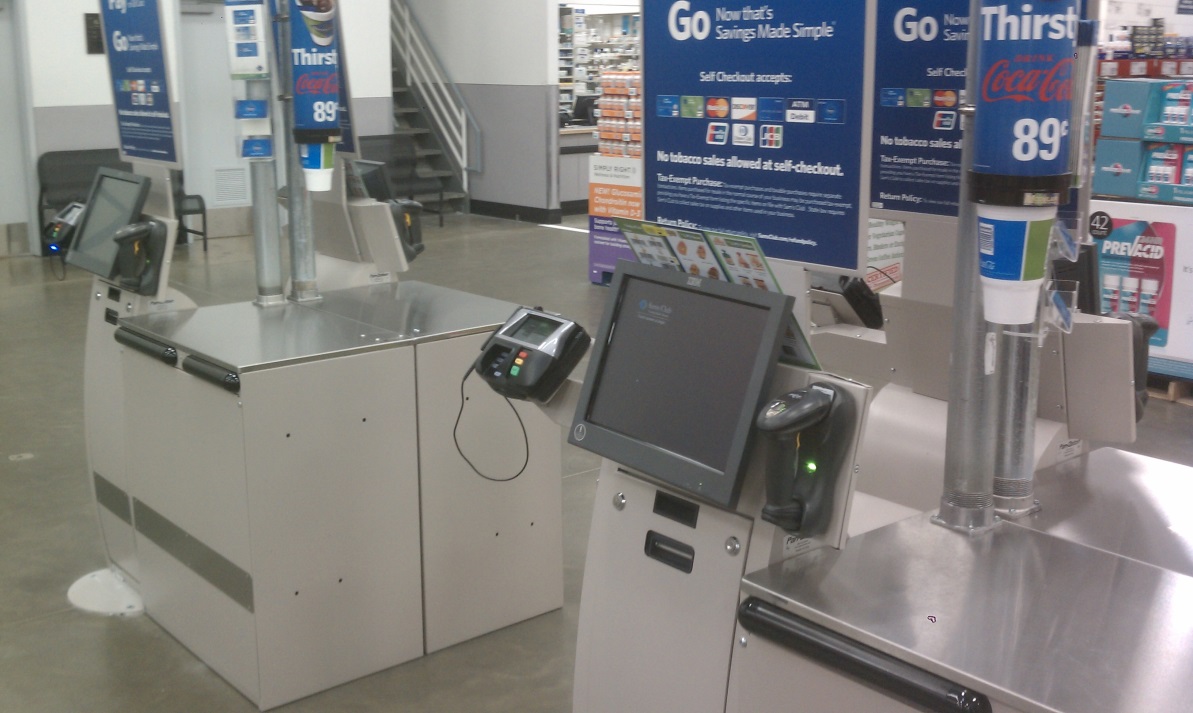 Vast selections of merchandise and wide aisles: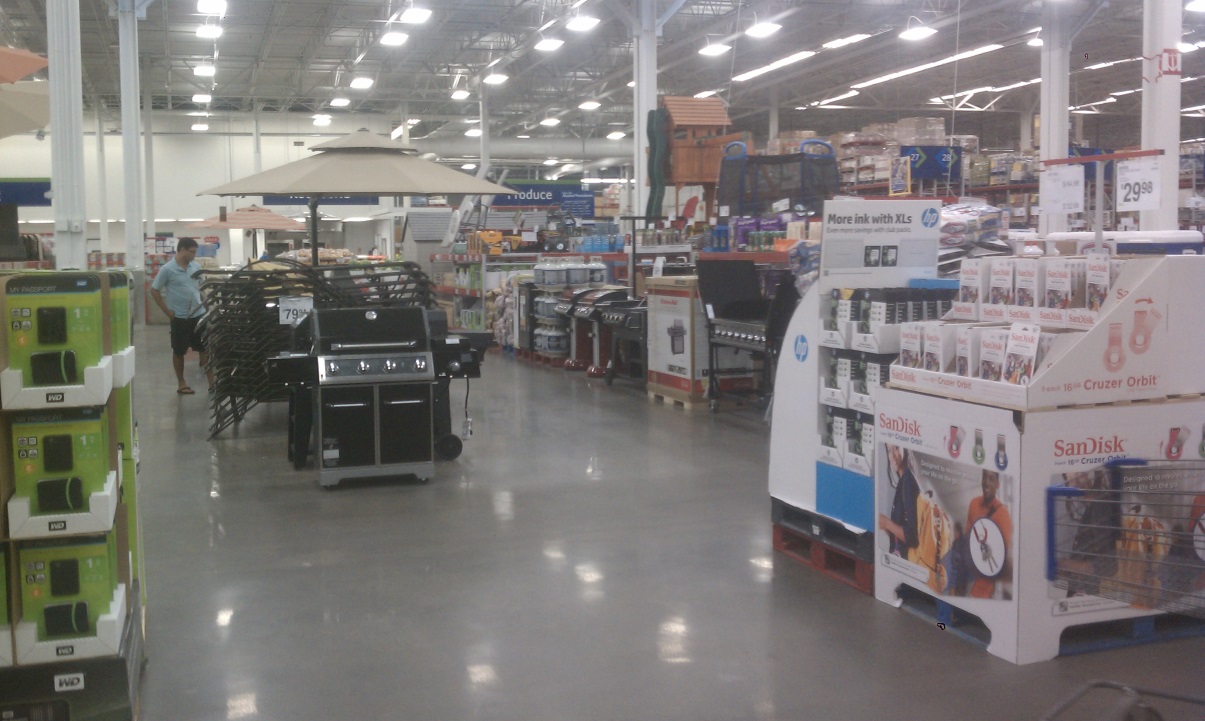 An Apple product station, center store
: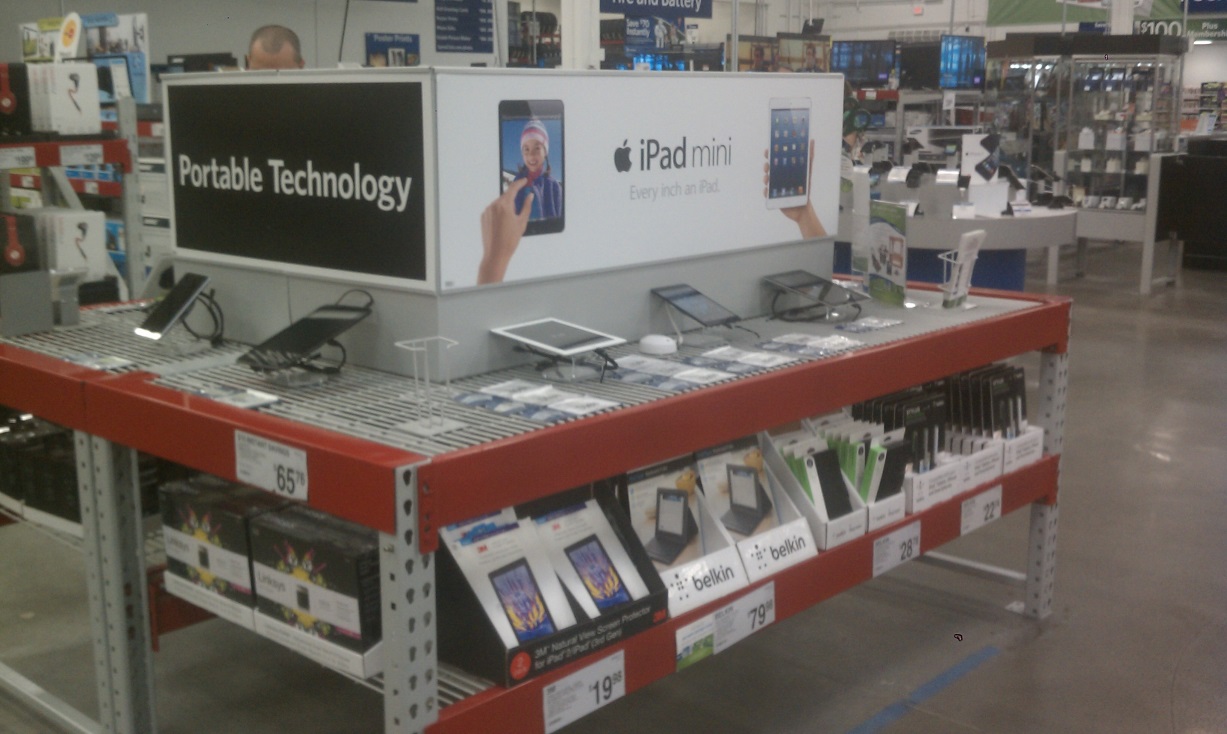 I left the Lakeland Sam's Club with the impression of a well-run, large scale independent business, with the feel of a home-town store.  Although owned by the corporate behemoth Walmart, this Sam's location didn't feel very corporate at all. However, the associates inside the store are what gave me this distinct impression. The Lakeland community will continue to be well-served by the enthusiastic personnel that run this high-energy Sam's Club.