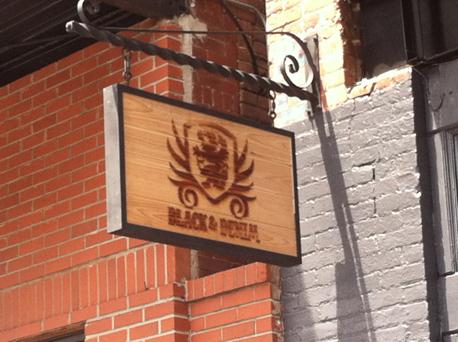 Black & Denim Apparel Company opened its first concept store in Tampa, FL. I had the privilege of attending.
The grand opening of the 500 sq. ft. Ybor City store was held on August 29th with a denim ribbon cutting ceremony. The Director of the Tampa Independent Business Alliance was in attendance and opened the ceremony. Mayor Bill Buckhorn also gave his best wishes to the new business owners and helped with the ribbon cutting. The men's lifestyle brand includes a collection of tees, woven shirts, denim jeans and accessories such as bags. The founders described the brand as "a James Dean look with a Johnny Cash soundtrack".
| | |
| --- | --- |
| | |
Roberto Torres said he always wanted to open his own business. A graphic designer and University of Tampa graduate, Chris Findeisen, also dreamed of making it big.  Along with Luis Montanez, they eventually would create the Black & Denim Apparel Company.  For three years they worked to create the line, launching it in 2009. What started in their apartments is now sold in showrooms and stores in New York, Chicago and Puerto Rico and at Urban Body Clothing, an independent retailer right here in Tampa.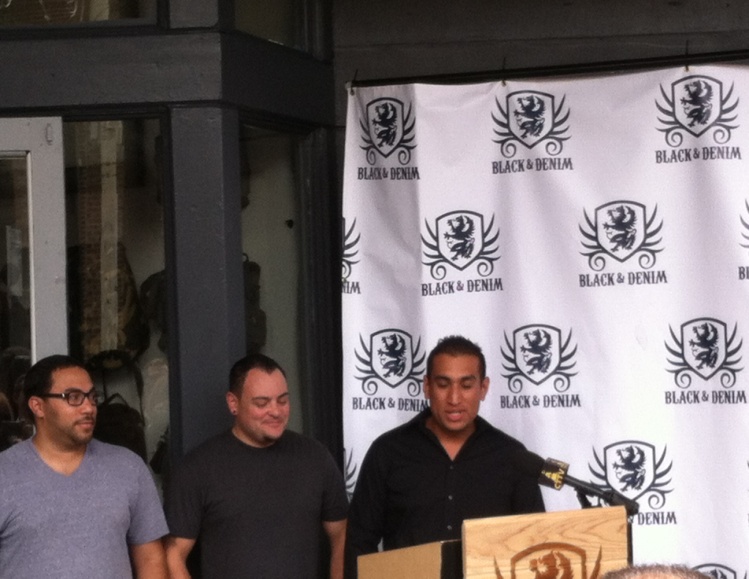 Black & Denim Apparel Company currently sells their products wholesale to 70 stores who resell the designer apparel for around $40 for a t-shirt and $150 for a pair of jeans. Designs stick closely to American themes including music and the military. 'American inspired, American made' is Black & Denim's motto and all of the clothing is made in the United States. In fact the designs, tagging, bagging and shipping is all done right here in Tampa. The line will soon be featured at Disney's Epcot in the American Adventure store, which highlights American-made brands.
| | |
| --- | --- |
| | |
The company has an option to expand the size of the 500 sq. ft. store to about 2,000 sq. ft. if things go well and hopes to open two more retail locations in Tampa Bay in the next two years. Black & Denim hopes to someday open another store in the Tampa Bay area to also serve as the company's headquarters. The store would sell its products and host fashion shows and events for other local aspiring fashion designers, creating a fashion district. Plans are also in the works to begin selling Black & Denim clothing in Macy's and Nordstrom stores by the spring of next year.
New companies like Black & Denim are added to the Chain Store Guide's Apparel Specialty Stores database every week. Over the past year more than 250 new apparel, accessory and sporting goods retailers were added.  To be included in the Apparel Specialty Stores database a company must do at least half a million dollars in sales. With Black & Denim's future shining bright, they are sure to easily surpass that this year.