It seems like just yesterday a colleague and I were talking about Rite Aid's financial performance and its dreadful stock price. However, the actual date was January 2009, when the company's stock price dipped below thirty cents a share. We pondered an investment – how could a historic retailer in a growth industry struggle for so long? Now, after 21 consecutive quarterly losses, the company has reported its third straight set of positive earnings for share.  An investment back then would have proved fruitful, as Rite Aid's stock has increased substantially to nearly $3 a share.
According to Chain Store Guide's Drug Store and HBC Chains database, Rite Aid's store count has been declining since 2007, when it peaked at over 5,100. Currently, the company operates 4,612 stores with pharmacies, compared to 4,648 in the month of July last year.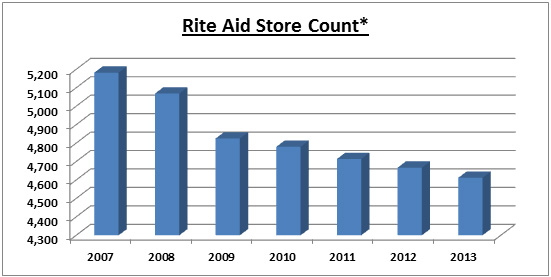 Rite Aid is third in the United States in pharmacy count, prescription drug sales, and prescription drugs filled behind Walgreens and CVS. However, Walmart is steadily nipping at its heels in all categories, while #5 pharmacy operator Kroger is also in the fold.
Top Five U.S. Pharmacy Operators
Ranked by Prescription Sales
| | | | |
| --- | --- | --- | --- |
| | # of Pharmacy Depts. | # of Prescriptions Filled Daily | Prescription Sales |
| Walgreen Company | 7,402 | 1,967,123 | $45,272,056,000 |
| CVS Caremark Corp. | 8,096 | 1,819,178 | $43,793,680,000 |
| Rite Aid Corporation | 4,612 | 807,391 | $17,165,170,000 |
| Walmart Stores Inc. | 3,943 | 676,400 | $16,551,747,000 |
| The Kroger Co. | 1,949 | 397,490 | $7,716,122,000 |
*Source: Chain Store Guide's 2013 Drug Store and HBC Chains Database